I recently added an FAA Part 135 Citation 525-series Captain position with Jet Methods (based at Palomar, California) to my aviation experiences. The process required an interesting combination of ground, online and flight training. Each charter certificate holder has a set of FAA-approved operating specifications known as "OpSpecs." They detail everything from dispatching the airplane, maintenance, takeoff and approach minimums, to how much dry ice you can carry! Even after 40 years as a CFI, there were regulations and procedures that I had never seen.
Under Part 135 operations, the Part 91 61.58 annual recurrent training isn't sufficient to meet the charter requirement; hence you have to complete a program that is approved within the OpSpecs. While the content is similar, it involves expanded ground and simulator content, including Part 135 regulations, flight procedures, and, of course, more paperwork. In my case, it provided a chance to train at LOFT in Carlsbad, California – a stone's throw from Palomar Airport (KCRQ) just north of San Diego.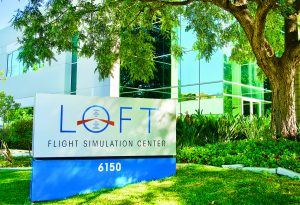 LOFT
Noel Yantos is the founder and president of LOFT. A number of years ago, I trained for my first Cessna-series type rating under his Flight Crew System's FAR Part 61 Citation 500 training program in a Cessna Citation 501. Except for an instrument proficiency check in an FTD, all training was in the airplane.
Noel realized that while his Part 61 training program was very successful, it was time to move up to another level. He started the development of LOFT's current Part 142 training program in 2010. Assembling a team of experienced aviators with Part 121 and Part 135 experience, LOFT created its first syllabus in six months. For those in the aviation training industry, you know this is no trivial exercise. The fact that they created the syllabus in six months is impressive of itself. 
The company's first venture targeted the Cessna Citation 525 type rating, which applies to one of the broadest arrays of aircraft models from the Citation CJ to the CJ4. The creation of a Part 142 simulator training program is an extensive project involving the development of the syllabus, curriculum, instructor training, facility, Class C or D flight simulators – and the FAA must approve every step. For the development of its Class D simulator, LOFT engaged Aeronautical Systems Engineering (ASE) in Florida. Within the Citation 525 series, the CJ1 is the most prolific model, so it made sense to start with that particular aircraft simulator.
Each area of a Part 142 training program is governed by a different group within the FAA. The curriculum is reviewed and approved by an FAA Training Course Program Manager (TCPM). In the case of LOFT, that is an inspector within the FAA San Diego FSDO office. This process involves a considerable amount of time by both LOFT and the TCPM.
ASE has built a number of simulators, and while quite familiar with the manufacturing of these devices, each new model requires an extensive amount of aircraft data, both systems and inflight aerodynamic. In order to build the CJ1 models for LOFT, it entailed fully instrumenting the actual airplane and flying a variety of flights over a period of six weeks. The result is an experience that mimics the aircraft in minute detail, even the quirks.
Arriving for Training
When you enter LOFT, you notice a difference from other training centers right off the bat. The LOFT concierge, Corrie Reese, sits at a desk created from a jet engine cowl. And on the right, you see a Link trainer complete with the instructor desk. All around, the walls are lined with aviation memorabilia – so much so that you might think you have entered a museum instead of a training facility!
This was my first training experience focused on the Cessna Citation CJ1 (CE-525). There are many similarities between all of the Citation 525-series aircraft, but enough specific differences for each model to keep it interesting. Richard Sears, LOFT's vice president, was gracious to accommodate my training requirements on short notice and created a class slot for me that fit my schedule. With only a one-week notice, it was the proverbial "drinking from a fire hose" process in absorbing LOFT's 500 pages of material in their training manual. The materials are well written, concise and dovetail perfectly with the ground and flight training program. 
Bob Rombach was my ground instructor on the first day, and as expected, an expert in the CJ1. I was joined by an experienced Citation CJ1 owner who had already trained several times at LOFT. Bob took an integrative approach to learning aircraft systems and limitations. His style, which typically started with the annunciator panel and each system's associated CAS message, proved very effective in learning the normal and abnormal operation of the systems. As Noel told me during our interview, one of the company's training goals is to "reduce the complexity to ensure simplicity."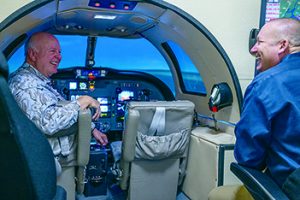 On to the Sim
LOFT's CJ1 sim is equipped with the standard avionics for that model, namely a Universal FMS and Garmin GNS 530. Cessna offered various avionics systems in the Citation 525 series with earlier models equipped in this manner and later models with Rockwell Collins Pro Line 21 in the CJ1+, CJ2+, CJ3 and CJ4. Newer models in the series, notably the M2 (CE525) and the CJ3+ (CE525B), feature Garmin 3000 avionics. 
Time passed quickly in the simulator. My flight training session with Eugene Tucker went by fast from pre-flight to shut-down. LOFT's flight simulator was just like the airplane, except at Eugene's direction, systems and engines failed frequently for my session. As pilots who have done type rating training know, the emergencies are only interspersed with short periods of normal operation. From engine fires to failures both before V1 and after, it was a great workout.
Since I was completing a FAR 135 training under our OpSpecs, I was required to do some additional procedures, such as a takeoff with 600 RVR and approaches to 1800 RVR. Otherwise, the maneuvers were essentially the same as a Part 91 61.58.
In addition to the CJ1, LOFT has a Lockheed L1011 and a new Cessna Citation V (CE560) simulator. The L1011 simulator is used for training crews for orbital sciences, which utilize an L1011 to launch rockets while airborne. The Citation V simulator is also unique as it is the only Level D training device outside of FlightSafety. With this simulator, LOFT can offer pilots not only initial and recurrent training for two pilot operations, but also the FAA-required annual training for the Single Pilot Exemption for the various 500-series jets. For pilots requesting the single-pilot exemption training, the programs require two additional days.
Proficiency Check
For the recurrent training, your final session is technically a proficiency check rather than the type rating check ride. While different by regulations, the process is very similar. My proficiency check was with Noel starting with the Part 135 paperwork. Noel quizzed me on the new-to-me Part 135 regulations and procedures, as well as the usual aircraft systems and emergencies. His engaging manner quickly puts you at ease. After struggling with some of the charter requirements and answering his other questions, it was off to the simulator for the check ride. Noel put me through the paces for almost two hours, and before I knew it, we were done.
Pilot Training Challenges
I asked Noel what challenges he and his instructors see when training their clients. His main comment: "pilots get in their own way." When pilots have issues, it can often be traced back to them responding too fast without confirming their current situation. In some cases, it is not confirming that the PFD scoreboard (the display of autopilot modes) matches what they thought they had selected on the mode controller. In other situations, it is not properly utilizing all of their cockpit resources, including an understanding of situational awareness. I also find myself that if I slow down, especially on a check ride, it provides more time to resolve issues and confirm that the aircraft is correctly doing what I planned.
LOFT also offers an active podcast, the LOFT Aviation Podcast. Noel believes this is a good way to expose pilots to a wide variety of aviation topics and keep aviators engaged. As we all know, learning doesn't stop when you complete a check ride or proficiency check.
Upset Training
LOFT is enhancing its previous upset recovery training (UPRT) program. They are completing a full restoration and upgrade of an Aerovochody L-39. Their goal is to have a significantly upgraded aircraft to be closely aligned with business aviation jets. The L39 will also feature a Garrett 731 turbofan. The new engine enhances the performance with less turbo lag, high reliability, more power and reduces the aircraft weight significantly. In addition to the new engine, the plane also offers a Garmin-based panel. 
I have an Experimental Authorization to fly the L-39 (an experimental version of type rating), and their upgraded aircraft will be a great platform. They will be offering one-day and two-day training programs that can closely mimic business aircraft in a safe environment later this year. You can learn more or contact LOFT at www.LOFT.aero.