Flying The Famous Fighter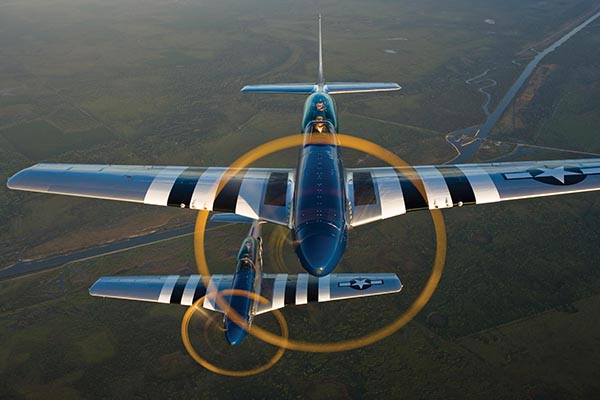 I give my wife Gisela a lot of credit when it comes to embracing mid-life dalliances. She enthusiastically mastered SCUBA diving and braved heli-skiing, and she gamely crewed our J-105 sloop, even on the stormy days. Still, I didn't anticipate that we would find ourselves training together at Stallion 51's facility in Kissimmee, FL (KISM). Yet, there we were, suited up and ready to go, the iconic World War II vintage P-51 Mustang beckoning.
The P-51 Mustang is a big, powerful airplane. Later variants had MGTOWs of nearly 12,000 lbs, fully loaded with armament, fuel and externals. The Mustang is also high energy, to say the very least. The entry speed for aileron rolls is normally 210 knots and, for loops, a staggering 260. Cruise speed is 323 knots at 25,000 feet and, even with full flaps (50 degrees), 110 knots is the short-final target ref speed, about the same as our CJ3 jet.
The P-51 is also a systems airplane, with hydraulic gear and flaps, and an advanced cooling design that actually adds thrust (the scoop underneath that funnels air to the water and oil radiators also acts like a small ram-jet). If there's an Achilles Heel to this airplane, it's that very close attention must be paid to managing the coolant temperature. It nominally runs between 100-110C, automatically controlled by operating an exhaust door at the rear end of the scoop. Anything outside of that range is a problem. For this reason, the airplane wasn't a particularly-effective low-level fighter; very vulnerable to ground fire, one lucky hit to a cooling line and it's game over.
Handling Characteristics
Prior to handing the reins over to me, Steve Lamore, instructor and mechanic for the airplane, demonstrated the basic aerobatic maneuvers, including loops, aileron rolls, barrel rolls, split S's, and Immelmans,. All are pretty straight-forward, with the exception of the very high and long duration (for me) G forces needed to maintain any reasonable confinement of the maneuver; 2.5-3.7Gs is typical while doing loops, for example. Side note: Stallion 51 doesn't use G-suits for its training.
There is no stall warning system in the airplane, so much of the training involves stall recognition. Both normal and accelerated stalls are preceded by some aerodynamic buffet. The range of airspeeds where these progressive buffets occur narrows from 76-88 knots, clean in level flight, to 72-76 knots with gear and flaps down. When clean and in a steep bank (i.e. 60-70 degrees) the delta between onset and stall decreases even more, and the speed range shifts upward to 120-122 knots. We did a number of maneuvers to explore the buffet phenomena, including flying in tight (70 degree) turns where the goal was to stay in the buffet range without stalling. Pretty tough!
Takeoffs and landings have their own challenges. Day 1 puts the student in the back, where the visibility is terrible (even worse than a Stearman, in my opinion). So, the first few takeoffs can be very interesting. As one might expect, the 1,600 HP Merlin V-12 produces a lot of torque. Torque effect while accelerating for takeoff is a real issue. But there is also gyroscopic precession, in addition to P-factor and slipstream. In little airplanes, the gyroscope effect is relatively minor because the propeller systems are light, in contrast to the 450-lb Hamilton Standard 4-blade propeller used on the P-51. Independent of the other factors, just raising the tail during takeoff causes a pronounced left-turning tendency. Analogous to a helicopter, the effects of any one control input (power, stick, rudder) must be anticipated. Adding power and raising the tail should always be accompanied by application of significant right rudder. And this is with 6 degrees of rudder trim already cranked in.
Taxiing the airplane is accomp-  lished with the tail wheel locked to steer 6 degrees right or left, using the rudder pedals to track an S-pattern, typical of low forward visibility designs. Unlocking the tail wheel is done by moving the stick all the way forward. The airplane can then be pivoted with a combination of braking and power. Even at idle the crackling (backfiring) Merlin provides plenty of power to motor around on the ground. With this in mind, great care must be taken to avoid any asymmetrical braking while the tail wheel is locked. A small amount of braking on one side while taxiing, a mistake I made more than once, can cause the entire locking system to fail.
The P-51 is configured clean for takeoff, with the takeoff itself a sequenced affair that starts with a static check of systems at 2,300 rpm. Once complete, brakes are released and the takeoff begins. The pilot steadily adds power up to 40 inches of MP. The tail is raised at 50 knots and power is further increased to 55 inches. The airplane lifts off the runway at about 100 knots.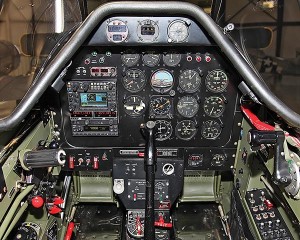 Moving Forward
Day 2 is somewhat easier because the student flies from the front where the visibility is better. But the workload is higher, too. Just starting the airplane is a process, with cold and hot starts requiring different procedures. And, given that the starter (and primer) is controlled only from the front, it is 100% up to the student to get it right. On this particular day the airplane was hot, having already been flown in the morning. The procedure is 1) throttle to idle (800 rpm/cracked about ½ inch), 2) boost pump on, 3) slight (½ second) prime, 4) hit the starter button, 5) after four blades or combustion mags to both, and 6) mixture auto-lean. It seems simple enough, but it requires quite a bit of contortion to accomplish everything in the 3-5 seconds of the start sequence. Happily, I got the airplane started on the first attempt.
In the course of the two days, we did a number of touch-and-go landings at Bartow (KBOW), about 27 NM SW of Kissimmee. Interestingly, Bartow was a P-51 Mustang training base during WWII! Landing the airplane is straightforward. The initial flaps of 20 degrees helps slow the aircraft to landing gear extension speed of 150 knots. This puts the aircraft on downwind at approximately 140 knots. The next 10 degrees is coincident with turning base and 130 knots. Turning final, airspeed is reduced to 120 knots with 40 degrees of flaps deployed. On short final, for a normal landing, the last 10 degrees (50 degrees total) are added and the airplane is slowed to 110 knots with the goal to cross the threshold around 100 knots.
Speed control is not particularly difficult to manage, but it is important not to get too slow, especially when turning. Aggressive recovery with power can cause loss of control, and when low this is always fatal. On several of my approaches I got about 10 knots below target and was quickly reminded to correct the problem.
Descent to flare and landing is mostly about staying lined up with the runway, flaring smoothly while gradually reducing power over the threshold until the airplane touches down two-point. But the pilot does have to precisely fly the needed glide slope. Curiously, slipping the P-51 isn't a particularly effective way to lose height. And reducing power below the minimum 26-inches during the approach is hard on the V-12 engine. Once on the ground, the airplane actually tracks pretty straight, but as the tail comes down the propeller precession tends to drive the airplane right instead of left. And this, amazingly enough, is at idle rpm. Again, anticipation is the key. After three or four landings, my weaving on rollout had somewhat improved.
On one landing, I bounced the airplane. With help from Steve, I recovered, but this experience reminded me that the recovery tools available in the P-51 are somewhat limited, compared to lighter tail-wheel airplanes. Adding power after the bounce, for example, isn't helpful because this causes control problems. And PIO must be avoided at all costs. Stallion 51 teaches a gentle re-leveling and no power changes, with the idea that there is likely still plenty of flying energy to land smoothly. The other solution is to feel for the ground with one wheel after the bounce. Actually, I saved my landing unaided by doing this when we returned to Kissimmee for the last time, and this one had three bounces. "Fix it", Steve said, and so I did.
There are a number of emergency scenarios, the worst being an engine failure or fire. Unless there is an airport immediately below, bailout is probably the best route to survival, providing sufficient altitude is available. For this reason, there is significant emphasis on egress technique, including jettisoning the canopy and diving out the right side (because of slipstream effects). Hydraulic failures are more benign because the gear freefalls to the locked position. If suspecting a hydraulic failure, the technique is to use whatever pressure is left in the accumulator to get the flaps down (or partially down) before attempting the gear. Strangely, landing with no flaps commands the same ref speeds as landing with them. The electrical emergencies are like other airplanes; generator off, boost pump off, for high voltages. For low voltages, verify generator failure, lower load (boost pumps off, etc.). Land as soon as practical, in either case. High coolant temperatures is a special situation; the pilot may have to pull an emergency coolant door handle, forcing the door at the aft end of the cooling scoop to open independent of the electrical controller.

Available Training
Stallion 51 offers several training options, including the check-out curriculum (front-cockpit transition) I selected, for pilots holding significant complex airplane experience and at least 500 hours of tail wheel time. Gisela's training, billed as an orientation flight, focused on flying and maneuvering, leaving takeoffs and landings to her instructor, John Black. John, a former Air Force F-15C combat pilot, demonstrated the aerobatic maneuvers and Gisela replicated them with finesse. The souvenir video proved she did a great job, a testimonial to both Gisela's strengths as a Private Pilot and Stallion 51's long history of providing authentic combat aircraft experiences to pilots and non-pilots alike.
The P-51 is iconic and truly a testament to the skill and creativity exhibited by the talented engineers at North American. There are a lot of great ideas in the airplane, many of which were incorporated in more modern designs. And, to the extent there is a superior aircraft aesthetic, the P-51 takes top position. Simply beautiful.
Still, flying the Mustang beats you up. No longer 19 years old, I felt pretty tired (and sore) after the first two days of what is normally a five-day, 10-12 hour training to checkout. The cockpit is hot and noisy. And this was without anyone shooting at us and with all systems functioning properly. The people who experienced real war while flying P-51s must have been exceedingly brave and robust. I can't imagine doing six-hour sorties, day after day, with periodic dog fights scattered in-between. Frightening!
Stallion 51 has "Slender, Tender and Tall" for sale, a beautiful P-51D model, modified to accommodate a passenger in the back. For training, we used a two-seat trainer version of the airplane, a TF-51, which is actually the more sought-after, due to its roomier canopy, plus a fuller set of controls for the rear seat passenger. Still, Stallion's D-model is very pretty. I told them that if Gisela liked her training we would consider a purchase. Gisela got to do a P-51 formation sortie during her flying and, of course, she loved it! So, what am I going to do now?