One of the guiding principles of the CAF Red Tail Squadron honoring the Tuskegee Airmen is "never quit." After the organization's centerpiece aircraft, a P-51C Mustang with its distinctive red tail, was involved in a landing mishap in February 2016, it became the rallying cry for the nearly year-long rebuilding and restoration process.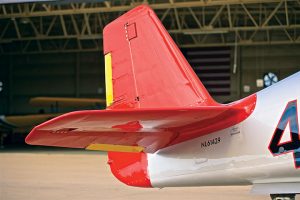 Two hundred, eighty-seven days and 3,000 man-hours later, the Red Tail Mustang took flight once again on Dec. 1, 2016 and is now back telling the Tuskegee Airmen story at air shows across the country. Although the plane will not be at AirVenture 2017, the Red Tail Squadron "Rise Above" traveling exhibit that will be featured in the KidVenture exhibits at Pioneer Field during Oshkosh.
The meticulous restoration was completed at Odegaard Wings and Aircorps Aviation in Bemidji, Minnesota, where warbird experts repaired, restored and re-assembled the Mustang. By November 2016, the aircraft and engine were ready for its first engine test run. After the rest of the repairs were made, Red Tail Squadron Leader Doug Rozendaal completed the test flights and delivered it to Flying Colors Aviation where a striking new paint job was completed.
The Red Tail Squadron got its start in the early 2000's when Minnesotan Don Hinz wanted to build a program to educate youth about the Tuskegee Airman, the all-black squadron in World War II that proved its ability fly as well as — possibly better than — many of the white pilots of the day. As a subset of the Commemorative Air Force (CAF), the Red Tail Squadron is a tribute to the pioneering airmen and a tool to tell their story to thousands of kids across the country.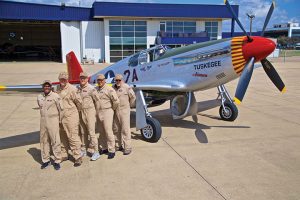 The CAF Red Tail Squadron's program has three main components: 1) The P-51C Mustang, 2) A 53-foot mobile theater and traveling exhibit, which features the panoramic film "Rise Above," and 3) A plethora of printed and online resources for teachers and youth leaders to bring the lessons of the Tuskegee Airman alive for youth. Throughout all of its activities, the Squadron promotes its six guiding principles, which were based on the experiences and successes of the Tuskegee Airmen: aim high, believe in yourself, use your brain, be ready to go, never quit, and expect to win.
Over the course of six months – June through October – the Squadron travels to air shows across the country.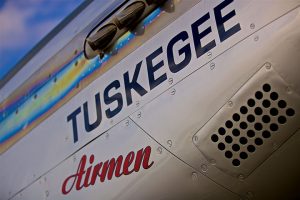 The Red Tail Squadron needs continuous support to carry out its important educational mission. To learn more, donate or volunteer, visit www.redtail.org. Also, check out its schedule to catch the Red Tail P-51C Mustang at a location near you.