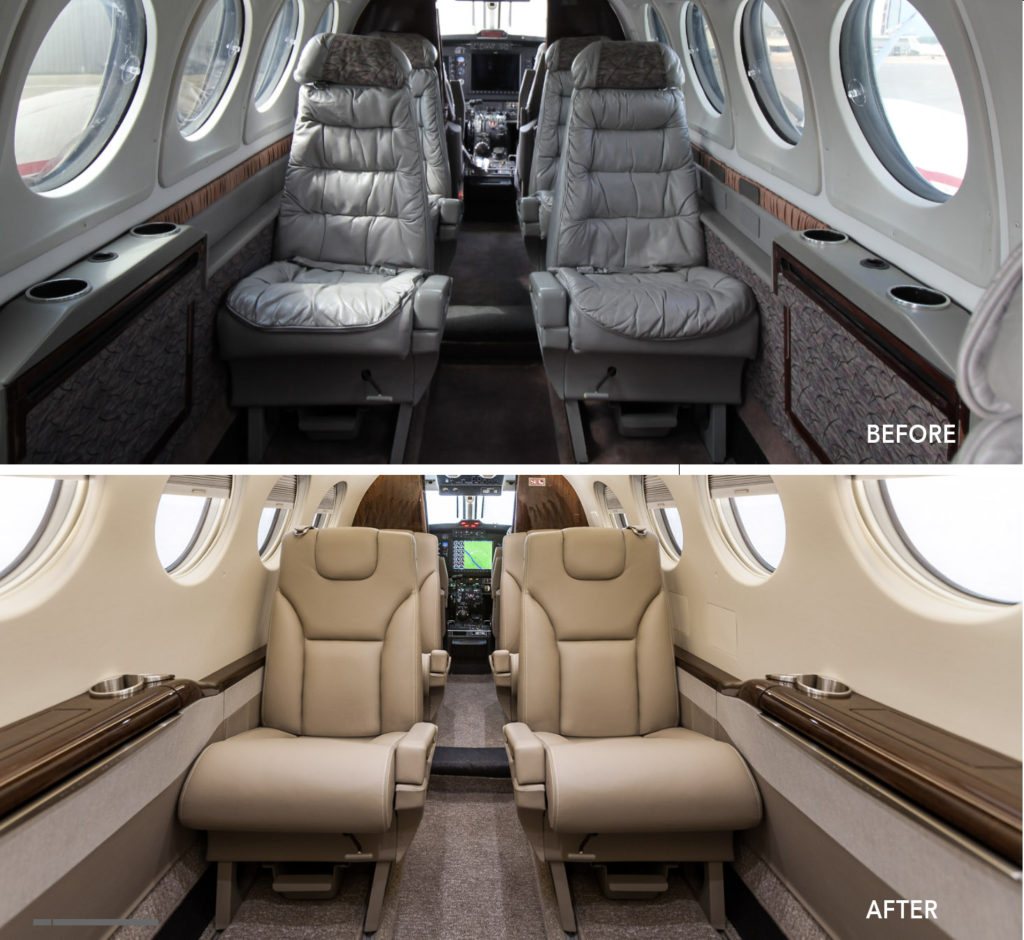 Let's say that you've already upgraded the avionics in your airplane as far as your needs require and your budget allows. The obvious next steps in the typical upgrade path are the interior and paint. And while many of us would think that a new paint job would add the highest short-term return, that may not be the case, especially if your aircraft is of the larger-cabin class. There's a pretty clear differentiator in what the guy or lady sitting in the cockpit's left seat values versus the person sitting in the cabin's right rear seat.
"You can paint an airplane, and it looks great on the ramp, but you're only going to see it for a few minutes," stated Phil Stearns, director of sales and marketing at Stevens Aerospace and Defense Systems. "You're going to spend hours and hours in that airplane's cabin. That's where you're typically going to spend time and money regarding the materials, finishes and amenities to get maximum return on that investment."
Of course, the only one that's a sure-fire winner is to put on new engines. That's guaranteed max ROI. Anything else, and, at best, you're looking at recouping varying percentages of the original cost.


Start with a Clear Goal
When it comes to cabin upgrades, you can put them into two basic categories: One is an inexpensive, clean, and brush-up of the soft and hard surfaces to aid in an upcoming sale. The second is someone who is planning on keeping the aircraft for a long while. While the two may be different, their goals are not mutually exclusive.
"We need to start with what they want to accomplish. Are they a private owner, flight department, or a Part 135 (charter) operator? Each has its own needs," Angie Coleman, Duncan Aviation senior completions and modifications sales representative, said. "They all want style and comfort, but a Part 135 operator will want more durable, easy-to-clean materials because of their frequent flights."
That being said, no matter who's back there, nobody wants to spend hours sitting in a cabin that looks old – well, not unless they're in a Staggerwing.
"Our experience has been that mods that update the appearance to more closely replicate the look of a new production aircraft are best," stated Jeff Lowe, president, Aircraft Fabricators (AvFAB). "Many times, the guy writing the check is sitting in the main cabin, so he'll understand the benefits of modernizing the cabin."
"Most customers today are looking to upgrade seats from the older rounded contours to a more contemporary squared-off look. It's very clean," Coleman said. "We're also finding owners wanting to get away from the large, poofy headrests to get a cleaner look. New Citation and King Air cabins are good examples. That's the look they want."
Another point to consider is what you don't currently like about your cabin. Are the seats uncomfortable? Does it lack storage? What do you need that it doesn't provide?
"There's a reason that you want to upgrade the interior in the first place. Is it dirty, smelly, or just worn out? Or, maybe you just don't like the look of it anymore. There's always a reason for an owner to spend money," said Stevens Aerospace and Defense Systems Regional Sales Manager John Walker. "Look at all the components. If you want to recover the seats, how do the sidewalls look? How about the headliners? How's the woodwork looking? There was some ugly stuff used in the 1980s in King Airs and Citations – somebody liked it back then, but not now," he added. "And, if you're looking to put it on charter, you need some kind of connectivity or texting capability onboard. In today's world, no one will charter the airplane if it doesn't have it."
According to Meghan Welch, director of paint and interior sales for Elliott Aviation, another popular upgrade today is increasing cabin storage space.
"Functionality is a major part of cabin upgrades today. We need to make sure that the finished cabin meets all of the customer's needs no matter the use," she said. "Whether it's upgrading the galley or reconfiguring the space, we never want a customer saying, 'I wish I had thought of that.' We have on-staff engineering, which really helps ease those types of changes. We start with what their ultimate goals are and then design the solution that best fits their needs."
Popular Cabin Upgrades
Okay, so we've established that making your cabin look newer and more comfortable is a great way to maximize your ROI. But, what in particular are your options?
"The sky's the limit as far as what you can do with the design and materials. But today the trend is towards less is more," Welch said. "Contrast is still a very popular design direction – darker cabinetry with lighter upholstery and finishes. Look at popular automotive interior trends."
As for what's new with materials and finishes, Walker said that some new leather materials look like fabrics but are much more resistant to wear and stains. Those will be great if you travel with children, pets or if your airplane ever finds its way into Part 135 service. Regarding those 80s era "ugly wood finishes," Duncan Aviation is now offering hydro-dipping, which is a cost-effective way to totally change the look of any hardgoods in the cabin at a very affordable price.
"This is a larger application of hydrographics technology," Coleman said. "With the hydrodipping application, we can get the same deep, long-lasting finish. It's becoming more affordable and is a great option now for smaller cabin aircraft."
"The upgrades that we see as the most popular right now are those that solve a problem and update the cabin's appearance," Lowe stated. "For example, if you have a King Air with the factory [cabin window] polarizers, we can replace them with our new 360-style pleated shades. They not only give the cabin a modern look, but they also eliminate the ongoing issues owners have with replacing those polarizers every few years."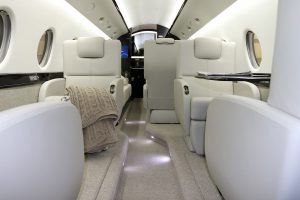 Cabin Connectivity and LED Lighting
While a full-on WIFI solution may be too expensive for most smaller cabin aircraft, there are connectivity options. Most of the major avionics manufacturers have some type of lower-cost texting or voice solution, whether it's satellite- or air-to-ground-based.
"There is a solution for practically any type of aircraft to stay connected with the earth – voice, texting, even streaming – it's all more affordable today," Stearns said. "We work closely with our customers to find what will work best in their situation, what's reliable, what works, and what's affordable? Their best solution may be to not do anything."
While connectivity is probably on every passenger's must-have list, it's not the only electronic upgrade you can do that will add value to your aircraft's cabin.
"Along with the new seat-located USB ports, another popular upgrade is LED cabin lighting. Switching upwash, downwash, even the reading lights to LED is a huge upgrade," said Jeff Simmons, Duncan Aviation's senior avionics sales representative. "You can get systems that change color that is very nice. Even if the owner wasn't thinking of lighting initially, once the cabin is disassembled, that's the time to do it. It's a cost-effective upgrade that makes a big difference."
That's a great point: once the cabin is disassembled for any work, it's a good idea to take a look at other work you want to do now or in the future.
"Anything you can do now in the way of preparing for future upgrades or additions will save time and money," Stearns said. "Whether it's seat-located USB chargers, new navigation/communications antennas, or whatever. You can save thousands by doing the work now. That's part of a good, detailed pre-project plan. It's not only what you want to do today, but what's coming in the next couple of years."
SWAT Your Old Cabin Away
While we've covered a lot of options, one that we haven't mentioned is a new service from Duncan Aviation that is now available at all three of the company's MRO locations called SWAT: Survey Aircraft Interiors, Write Prompt Quotes, Artistically Clean, Touch-Up, Dye, Correct, and Transform Appearance and Functionality.
According to the company, the SWAT team will go through the aircraft and take care of all the "small items" that are not part of an aircraft's scheduled service. SWAT services include touching up paint, spot-dying leather seats, resewing curtain guides – a myriad of things that will give your cabin an overall fresher look.
So, What's the Bottom Line?
Whether it's a simple cleaning, new upholstery, carpeting and sidewalls, hydrodipped hard goods, connectivity, and whatever else you can think of, there's seemingly no limit to what you can do to make your cabin look like new.
The problem is, which upgrades will pay off? Well, again, if you're keeping the airplane, then it's totally up to you. Anything that adds comfort and convenience to any flight is a worthwhile upgrade. But, if you're on the fence about selling sometime soon, then you may well benefit from discussing your plan with a licensed aircraft appraiser/dealer.
"What appraisers typically say to us is that as long as the cabin refurb is new looking and well maintained, they will get a good percentage of their investment back," Welch said. "They get to enjoy the new cabin now and get a good payback later on."
One thing you have to be careful of, though, is unless you plan on keeping the airplane for a long time, don't get too carried away with the colors and finishes you select. You may love doing all the soft finishes in your alma matter's colors, but the next owner may not share your enthusiasm.
"Don't give a prospective buyer a reason to look away from your airplane," Stearns said. "A great broker can help you look beyond the cosmetics of a good airplane, even if it's as simple as cleaning the seats and adding new carpet runners. If you're trying to move a million-and-a-half-dollar airplane, spending a little on a few things is nothing compared to the value of the airplane."
Too true. It's like looking at an exotic car. If one is just plain unkempt looking and the other is looking "factory new," even if it costs X-thousands more, you're more likely to want to take the clean one home. It's just human nature.
As one interior shop owner said, "It's amazing and a bit sad that an aircraft owner will live with worn-out looking carpeting, scratched windows, and scuffed sidewalls for years. But, when they decide to sell, they're all up for making it look new. It's a shame they don't just want to make it nicer and more comfortable for their own enjoyment."
So, what's the bottom line when it comes to which cabin upgrades will bring the best return? Like we discovered in the avionics upgrade story in
T &T's December 2020 issue, it all depends on, well, way too many things to cover in this story. But as Stearns stressed, don't just look at the bottom-line budget. Take time to explore all your options.
"Don't just ask for an interior quote, but take some time to meet and speak with your interior designer about what's important to you. How you use the airplane? Don't hold back from saying, 'what if we could do this, or replace that?'" he said. "Don't just settle for a beautiful interior, but get a beautiful interior that's yours."