In June, my usual jaunt from Dallas Addison (KADS) to Gunnison, Colorado (KGUC) became a bit more interesting. About this time each year, the moist southwesterly flow, known as the "monsoonal season", begins. This year, however, Mother Nature decided to make it more personal by producing hurricane Blanca. She dropped huge amounts of moisture over Los Cabos in Mexico and then blanketed the Rockies with torrential rains.
I cancelled my planned trip to Gunnison.
The next week saw a number of areas of low pressure parked over the western US and the winds aloft at FL410 were not moving the systems much. Departure weather for my next attempt showed mostly clear skies until the front range of Colorado, and then lots of moisture.
KGUC (Gunnison) – 0000KT 10SM FEW055 09/06
KTEX (Telluride) – 0000KT 10SM -RA SCT024 OVC033 11/09
KASE (Aspen) – 13003KT 5SM RA BR FEW015 OVC022 09/09
KMTJ(Montrose) – 13006KT 10SM BKN100 13/12
Forecasts for the airports around KGUC called for visibilities of 5-6 miles, showers in the vicinity, and ceilings of 2000-4000 scattered to broken with thunderstorms two hours after my arrival. Gunnison does not issue a forecast and I departed KADS using my usual alternate of Montrose. Just as forecast, as soon as we passed west of the front range, the low level moisture appeared.
I am always skeptical of the A01 aviation weather reporting around the Gunnison airport, after listening to numerous recordings of "clear below one-two thousand" over the years. I am not sure exactly where that sensor is looking, but often there are lots of clouds very near the airport. So, on this day, as I heard the same friendly recording, I planned on the ILS to runway 06. Sure enough, we were in clouds and icing at 14,200 feet (the minimum vectoring altitude), 5 miles from the airport.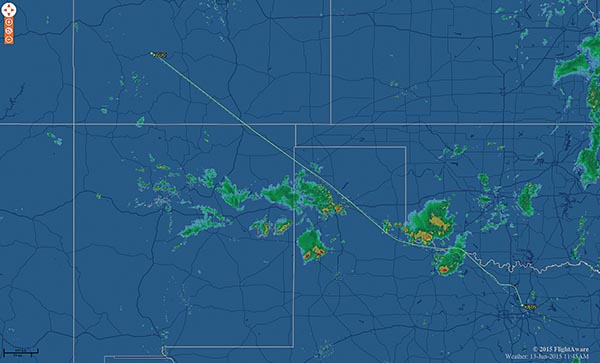 After a routine approach we were on the ground.
The trip home was also challenging. Dallas had been flooded with record-setting rains (19 inches in May alone) and June was starting out equally moist. Our 0900 departure from Gunnison was planned to avoid the forecast TRW's after lunch time in Dallas. At FL410 we were on top of most of the developing storms around the Texas Panhandle. But NEXRAD showed me that a change in the STAR would be necessary to skirt the building cells on the GREGS7 arrival to Addison.
"Fort Worth Center, November 1865 Charlie would like to go direct to ZANTO on the arrival for weather. And is anyone getting in between the cells ahead?"
"It looks like most are deviating east to join the arrival," came the encouraging response. Needless to say, I was at full attention as we descended out of FL410 between cells. With all our ice protection on, the ride was remarkably smooth through multiple layers all the way down to bases of 2,500 feet.
As we drove home from the airport, it started to rain. It was a satisfying day.
Fly Safe.