As EAA AirVenture approaches, I find myself reflecting on the many varying threads that bring more than half-a-million people together for the world's "Greatest Aviation Celebration." In particular, I wonder about the attending pilots who, for one week, are surrounded by like-minded and passionate fellow pilots. Certainly, a unique setting given that only .002% of the U.S. population are active pilots. This leads to a question I often contemplate: what ultimately led the members of this miniscule group to become pilots – a family influence? A discovery flight? A school course? A longtime calling? 
My husband falls into the latter category. Though he was raised without direct exposure to aviation or pilots, he saw airplanes in the sky and instinctively knew it was where he needed to be. My own story I feel is much more common in our industry; I was influenced by someone I knew. In my case, it was my family. I was born into an incredibly aviation-centric family; my father, mother, sister, uncle and grandfather are/were all pilots. I grew up in general aviation, regularly flying to family events and vacations. For me, aviation was a completely normal facet of life – but not a career path.
It would take until I worked toward my own pilot's license eight years ago, essentially living at my local airport, Stearman Field (1K1), that I realized, "Oh! This is what it is all about." Even after all of those years in the back of a Bonanza, it was as if I had crossed an invisible line. I suddenly understood the appeal. Perhaps more importantly, I learned that I myself was capable of flight. So, I changed my major (from animal science!) upon returning to college that Fall and never looked back.
The threads of backgrounds and stories that weave our pilot population tapestry is fascinating to me, but what can we do to strengthen it? To ensure its continual growth? How can we reach the next generation of pilots, drawing from those with no exposure or clear access to aviation? Or support those with a lack of means to pursue a pilot's license? How can we positively influence not only our industry, but their lives? I learned of one model idea just recently.
Bob Hoover Academy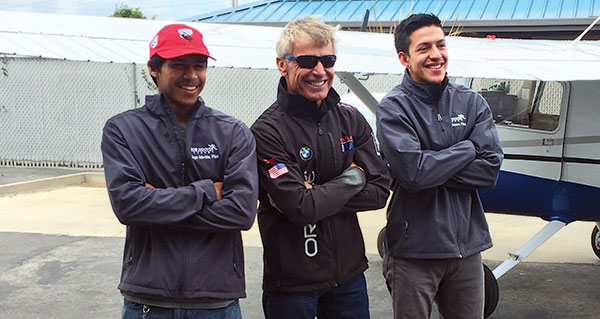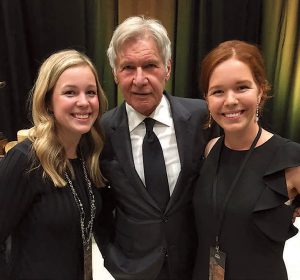 In late March, my sister and I had the pleasure of attending the 2018 R.A. "Bob" Hoover Trophy Awards hosted by AOPA in Washington D.C. Actor and general aviation advocate Harrison Ford was the recipient. In just its third year, AOPA President Mark Baker noted that the event's trophy is presented to an "aviator who exhibits the airmanship, leadership and passion for aviation and life demonstrated by Bob Hoover."
For years, Ford has been a voice for our industry, using his spotlight to promote general aviation and spread awareness of its impact on communities. He has volunteered for the Young Eagles program, testified before Congress on behalf of airports and served closely with AOPA on a number of other initiatives. But during his acceptance speech, Ford said little of himself, and instead swiftly transitioned the attention toward aerobatic pilot Sean Tucker (last year's trophy recipient, and the presenter of the 2018 award). Ford spent his time on the stage discussing Sean Tucker's brainchild, the Bob Hoover Academy in Salinas, California. 
"Using the metaphor of aviation and flight, Sean is using Bob's legacy to create social justice," said Ford. "He's helping kids one at a time pull themselves up out of dire circumstances and it's an amazing thing to see." 
The Bob Hoover Academy is a non-profit organization which provides a high school curriculum geared toward STEM and aviation. The program merges education and flight in an effort to change lives of at-risk teens living in the surrounding area. And the privilege of flight is not just handed to them; students must excel in the ground curriculum and earn their spot in the flight training program. 
"We've got to help out here," Ford added. "This needs to be a program that can be replicated and used to advance aviation, social justice and humanity." 
Ford's passion was evident and spurred me to find out more through further research. Subsequently, it is now one of my goals in my new position to help spread the word of exceptional efforts and programs like this. I believe we can all find a way to use aviation to positively influence our communities and promote the growth of future aviators. I encourage you to support the Bob Hoover Academy, or programs like it, and let us collectively add threads to this great tapestry.
 (To learn more about the Bob Hoover Academy, visit www.bobhooveracademy.org).