In early March, the 28th annual Women in Aviation International Conference was held in Orlando. (For the guys reading this, stay with me.) The conference attracted more than 4,500 attendees from 19 countries, 165 exhibiting companies, and featured astronauts, high-ranking, accomplished military aviators, and leaders in the airline and business aviation industry.
To be honest, I hadn't been to a WAI event in many years, and had never attended the international convention. Having attended well north of a 100 air shows, conventions, regional meetings and fly-ins throughout my life and 30-year career, I didn't expect it to be significantly different from other conferences I've attended in the past: There will be an exhibit hall, various speakers, a keynote address, a few awards and a banquet. Been there, done that.
Was I ever wrong.
What changed my perception was due to, in part, by the company I kept during the three-day event. A few weeks prior, I received a call from my daughter, who is a 2/C Midshipman at the U.S. Naval Academy. Abby is a private pilot, an aeronautical engineering major, and a member of the Academy's Intercollegiate Flight Competition Team. She has her sights set on a Naval aviation career after graduating in 2018. Yep, she's our slacker.
On the call, she excitedly told me that four Midshipman had been selected to attend the WAI conference, and she was one of them. Accompanied by two Academy officers (who are also Naval aviators), the group would have the opportunity to spend three days interacting with leaders from throughout the aviation spectrum, as well as mingle with other students interested in military and civilian aviation careers. The purpose, they were told, is to network among the wide swath of accomplished aviators and come home with a greater knowledge and appreciation of the various missions and fields within the broad industry we call aviation.
"Weren't you planning to be there?" she asked. "Of course," I answered as I punched "register now" on the WAI website.
Once we arrived for the first day, it quickly dawned on me that these young women – some of the brightest and most motivated people you'll ever meet – had never in their lives been exposed to an opportunity quite like this. Every which way we turned, there were multiple generations of aviators who have done amazing things and were there to share their experiences and pay it forward. It was also interesting that there were nearly as many men in attendance as women. The conference serves as a job fair with the major airlines, fractional ownership companies and cargo haulers conducting in-person interviews for job openings.
We attended a panel of female Naval aviators who shared fascinating flying stories and life on deployment. We listened to recollections by three WASPs who are among the handful still with us. (One talked of towing targets for troops to practice anti-aircraft fire; sometimes their aim wasn't very accurate.) We interacted with a NASA astronaut working on the mission to Mars; chatted with various military brass – men and women – in every branch of service; and heard from members of the first class of women Naval aviators. We also met executives and representatives from GA companies, such as Piper,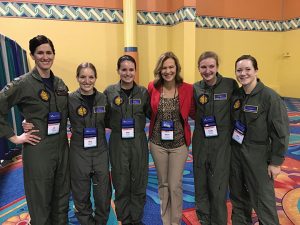 Textron, Gulfstream, Bombardier, Bose and other products and services the Mids didn't even know existed. Finally, we attended a flight suit social, where multiple generations of women military pilots – from 90-plus year old WASPs to current astronauts and Navy F/18 fighter pilots – hung out, shared stories, and provided advice and inspiration. Me, being the only one in civvies, could only marvel at this boisterous, upbeat (and sometimes salty) sisterhood of military pilots.
We also heard some disheartening news at the conference: Even with so many new opportunities and renewed focus on attracting women to STEM and aviation career fields, the needle hasn't budged: While the number of women pilots steadily grew through the 1960s, 1970s and 1980s, the number women holding certificates has stayed statistically flat at around 6 percent over the last 30 years. The female military aviator is even more rare. Stats cited from a few years ago revealed women made up 2 percent of the Air Force, 1 percent of the Marine and 4 percent of the Navy pilots. The challenge remains how to encourage young women to explore the opportunities and adventure that awaits when they take the left seat.
Two obvious keys are exposure and mentorship. The WAI conference provided both for this small group of Midshipmen, allowing them to carry back deeper appreciation of the path of women aviation pioneers blazed before them. They also left with
the knowledge that many people have their backs as they move forward to pursue their aviation careers.
By the end of the three-day event, I realized I had been missing a lot all these years. Thank you Peggy Chabrain and WAI!