The first time I heard the Skyhawk check in on frequency, I was 30 miles off the coast of Georgetown, Guyana. From the sound of it, they appeared to be about 60 miles behind me and based on our mutual headwind, probably only doing about 90 knots. I had no idea who they were or where they were coming from, but it was comforting to know that another small single was sharing the airspace on this long leg from Trinidad to Cayenne. 
On their next call, they reported that they would be diverting to Georgetown for fuel. I had been told that, if possible, try to avoid Georgetown. Not sure exactly why, but visions of Jim Jones and the nightmare that occurred in that country decades ago were enough to keep me focused on assuring my reserves were enough to make Cayenne. Good luck guys, I thought to myself.
It was mid-October of 1996, and I was on a delivery trip of a Beech Bonanza F33A from North Carolina to Southern Brazil – my first big international trip on my own. My day job was vice president of sales for Beechcraft dealer Piedmont Aviation, which did not entail being a professional delivery pilot. And while the trip was a grand adventure, it was definitely a bit out of my comfort zone, so a certain level of anxiety was ever present in my consciousness. There were the long overwater legs to think about and, of course, the engine didn't quite seem as smooth as it did over land. And knowing that ahead of me was going to be about 1,000 miles of jungle and if by chance that trusty Continental IO-520 decided to give up at the wrong time, it would be doubtful anyone would ever find me, even if I did survive the impact. 
But I was probably most anxious about the customs and importation process when clearing into Belem, Brazil. I had been told that the customs agents in Belem didn't speak any English and my Portuguese was limited to essential things like how to order a beer or asking for directions to the bathroom. How in the world was I going to be able to communicate? My customer had given me a package to give to the officials with specific instructions and theoretically all the required documentation filled out. And I had a case of Scotch whiskey in the back that I had been told might be useful to "grease the wheels" of any bureaucratic hold-ups. 
After a pleasant overnight in Cayenne, it was off to Belem. About an hour into the flight, the Skyhawk made another appearance checking in on frequency, now clearly in front of me. Gosh, I thought, those guys must have got up awful early in Georgetown. They reported that their destination was Belem as well, so I looked forward to meeting them and was curious to find out about their Georgetown experience.
After about two hours, the mouth of the Amazon appeared below. It was an incredible sight with the fresh water appearing to boil as it entered the Atlantic after completing its 4,000-mile journey from the Andes of Peru and Ecuador. And the amazing thing was the mouth with its tentacles stretched over the next 100 miles. 
The landing and taxiing to customs was uneventful – and I noted the Skyhawk on the ramp. I marched into the office and was greeted by half a dozen uniformed officials. All the paperwork was handed over and I coughed up my planned and probably butchered "Nao Falo Portugues," which translates "I don't speak Portuguese."  
They began pouring through all the paperwork and started talking to themselves pointing to each document. The more they talked, the louder their voices became to the point where it appeared to me that they were quite angry about something. One of them turned to me and was aggressively flipping through the pages pointing and shouting that I only could guess translated to "these documents are not in order and what the hell do you think you are doing!?" He was turning more and more red in the face, and I'm sure that I was turning white as I was wondering what the prisons in Belem would be like.
"Is there something that I can help you with?" It was a voice that came from the doorway of a nearby room. A handsome, slender twenty-something-year-old guy strolled into the office. "My name is Ernesto Igel and my friend Fares and I are ferrying a Skyhawk from Boston to São Paulo. We heard you on frequency. Please explain what you are trying to do, and I will see if we can straighten things out."
My first thought was this guy just rode in on a golden chariot wearing a Superman cape and was going to save me. My second thought was Boston? Are you kidding me? My trip is 30 hours and theirs is probably 50! Holy cow, their rear ends are going to be sore when this is over.
I explained that my company had sold the Bonanza to a customer in Londrina, Brazil and that I am the ferry pilot and somehow needed to get through the customs and importation process.
Ernesto started talking to the officials explaining what I was doing. They still seemed angry. Ernesto started to raise his voice back to them. Back and forth they went, pointing at the documents almost yelling at each other. 
Finally, Ernesto turned to me and said, "they want to see your airplane."  
We all walked out to the F33 and they looked over the engine compartment, the front seat and back seat, and finally the baggage compartment. Then they saw the case of Scotch and started pointing and yelling at Ernesto again. The conversation I assume was something like, "What the hell is this? Is he trying to sneak this into our country without declaring it?"
I told Ernesto that the Scotch was actually a present for the customs officials in appreciation for all their help. Ernesto frowned at me but proceeded to explain the situation. The official scooped up the Scotch and we returned to the office where at least a hundred stamps were pounded on the documents and I was shown the door and cleared to go. I'll never know what the fuss was about but what I did know was that I felt like hugging Ernesto as the stress melted from my body. But I didn't.
"Thank you so much. You have no idea how much I appreciate you coming to my rescue. Thank you, thank you, thank you," I told him over and over. His friend Fares appeared, and I introduced myself. Fares was the new owner of the Skyhawk and Ernesto, a much more experienced pilot, was helping with the ferry flight. It was about four in the afternoon and I wanted to get some more miles behind me, but I also wanted to buy these guys dinner. "Where are you guys headed tonight," I asked. "Imperatriz. It's about 300 miles south of here and I know a great restaurant and bar there," Ernesto responded. 
We agreed to meet up at Imperatriz but also to try to rendezvous in-flight to snap some pictures of each other. They took off about 15 minutes ahead of me as I still needed to top off with fuel.
It was a brilliant blue-sky day but with tons of puffy cumulus building up from the jungle below. After a bit of searching, we located each other and I brought my power back to about 18 inches and dropped the approach flaps to try to match the Skyhawk's speed. We snapped pictures of each other for five minutes before I powered up and pushed ahead to Imperatriz.
A few hours later we were sitting together at a restaurant table located right on the Tocantins river that runs through the jungle town. It was hot, incredibly humid and I could literally smell the moist earth that surrounded me. And I loved it. I was in an exotic place in a foreign land but completely relaxed for the first time on the trip.
During dinner, Ernesto brought something up that made me a bit uncomfortable and embarrassed. "I don't agree with your idea to give the case of Scotch to the customs people. It makes us feel like you think of us as a corrupt banana republic that needs to be bribed to get anything done," he said after a big swig of beer. "Gosh, I'm sorry. I didn't think of that," I responded, feeling like an ugly offensive American. "Don't worry," he said trying to make me feel better. "You're not the only one to do such a thing, and I suppose those guys are back there enjoying their Scotch right now." 
After dinner, we went to a bar for a few more beers and to share work history and flying stories. I learned that Ernesto was the son of a leader of a fuel and chemical company called Ultra (it was only later when I would understand just how powerful his family was in Brazil). It was obvious he had a strong upbringing as he exuded a maturity and confidence that is rarely seen from such a young man. He then invited me to visit him in São Paulo after I was done with my customer delivery, saying I could stay at his house and he would introduce me to some other aircraft salespeople – an incredibly generous offer. I accepted the offer and told him I would call when I was done later in the week. 
Four days later, after delivering the Bonanza and spending time with my customer, I flew TAM airlines to the Congonhas airport in São Paulo, which is in the heart of the city with huge buildings surrounding it. It serves as both a general aviation airport as well as a hub for many of the regional flights around Brazil. I caught a cab through all the traffic to Ernesto's apartment. It was spacious, well-appointed and located in a very nice part of the city. Later that evening, Fares joined us, and we went out on the town to several bars and a terrific Italian restaurant. 
The next day, as promised, Ernesto offered to take me around town to introduce me to some fellow aviation professionals. He apologized that his only transportation was his motorcycle, and would I mind sitting on the back. I was to fly out later that day and couldn't imagine riding around downtown traffic straddling a motorcycle and holding my bags. So, I politely declined and said I would follow him around in a cab. For the next five hours, the cab and I chased after Ernesto weaving in around the city making stops at different airports to meet a lot of nice, well-connected aircraft dealers and brokers. He was incredibly generous with his time and wanted to do his best to ensure that I was able to build a stronger network and business in Brazil. Toward the end of the day, it was time for me to make my way to the international airport to fly home to North Carolina. Again, I thanked Ernesto profusely and was certain that I had developed a great new friend for life.
Then, early one morning after being home about a week, I was back in my routine of 30 minutes on my treadmill before going to work and was watching the "Today" show. The news broke that there had been a terrible airline accident at the Congonhas airport in São Paulo. TAM flight 402 had apparently been unable to climb after departure and crashed into the city killing 89 passengers, six crewmembers and eight people on the ground. I shuttered to think about the fact that I had just flown TAM into Congonhas only a week before and was aware of the congestion surrounding the airport. Such a tragedy, but like most bad news that we get, we carry on. So, I went to work not thinking too much more about it.
After returning from work, I checked my emails and got more news that brought me to my knees. Fares had sent me a note that Ernesto had been on TAM 402 and was killed. I was stunned and literally cried. How in the world could this happen? You don't think about general aviation pilots dying in the back of airliners. What are the chances that he happened to be on this particular flight? 
The loss of life of any friend or family member is difficult to take, but I have always felt that the loss of life of a young person is the ultimate tragedy. The thought always crosses my mind of "what could they have become?" In Ernesto's case, he was clearly destined for greatness. I found out later that his father was CEO of the multi-billion-dollar company and was grooming his young 27-year-old to take the reins in the matter of a few years. I am certain he would have been a fabulous leader. He had the strength of character to rise to the highest level of politics as well. Hell, he could have become the President of Brazil. 
Ernesto's family and the country of Brazil lost a lot with his passing. But for me, I lost a new and dear friend who I never will be able to adequately thank for his kindness and generosity. I wish I could give him that hug that I owed him.
Today, on my office wall, I keep and treasure the picture that he took of my Bonanza cruising over his beautiful country. God speed my friend.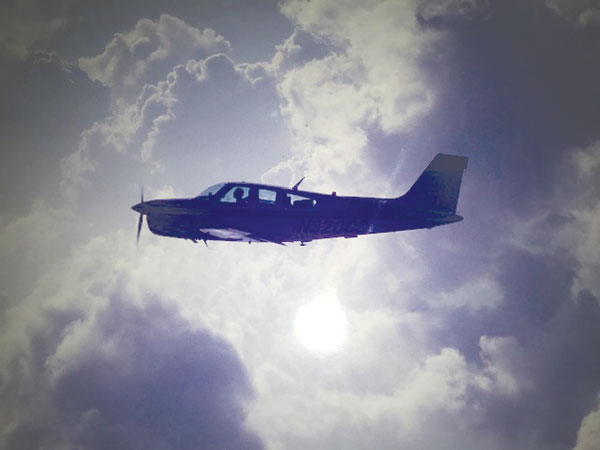 Author's Note: 
Post-accident investigation of TAM Flight 402 revealed that after rotation the Fokker F100 right engine thrust reverser inadvertently deployed and the aircraft rolled to the right. A safety system in the aircraft then automatically pulled the right engine and associated power lever to idle. The copilot, noting the power lever position pushed it forward again creating enormous drag from full power being applied to the reverser. There was no other indication in the cockpit that the reverser had deployed. The safety system again snapped the power lever to idle and this time the captain pushed the power lever forward and called for autothrottles off. The aircraft was unable to climb in this high drag condition and crashed into the city. The crew had not been trained for this scenario as it was considered extremely unlikely.