We are eastbound from Olympia, Washington to Columbus, Ohio at FL 450 in the Lear 40, smoothly riding along in the sun, about 6,000 feet on top of an overcast. The cloud cover extends vertically almost to the ground and horizontally all the way to the east coast, with very few breaks. Airline 737 crews two miles underneath us are on the frequency, complaining about ice and turbulence, and are looking for tops that are well above their reach. Our passengers, riding peacefully in the back, are former U.S. Army Combat Engineer Staff Sergeant Jason Gibson, his wife Kara and his one year-old daughter Quinn. The New Year will arrive in two days, and this will be the last of several Veterans Airlift Command (VAC) trips fellow Lear pilot Jeff Hendricks and I have flown in 2015.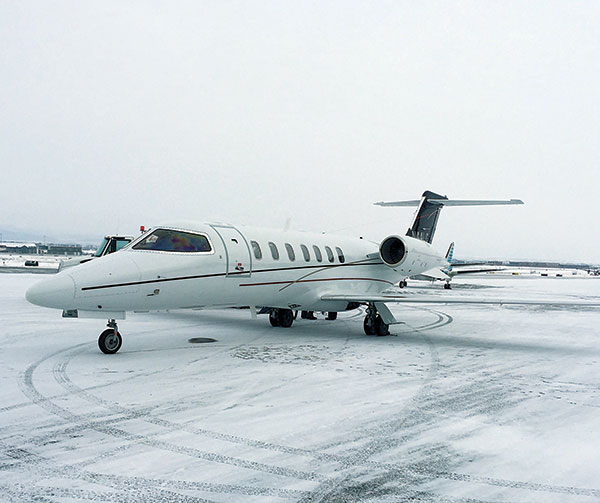 Sergeant Gibson comes from a long family tradition of patriotic military service, and he joined the U.S. Army in 2005 with the intention of making it his career.
Eight years later, he was a combat engineer on a hot, dusty road near Kandahar, Afghanistan, kneeling over an improvised explosive device, with the intention of disarming it, when it was remotely detonated. When the device went off, all he could recall seeing was red…his own vaporized blood and tissue.
In prior wars, this type of explosion and injury would have resulted in certain death, but, with the airborne medical evacuation capability the military now has, that is no longer always the outcome. Sergeant Gibson was immediately flown from the site via helicopter to a field trauma hospital, where he was sedated and stabilized, then transported to a larger facility.
Two weeks later, he woke up in an Army hospital in Germany, with his legs missing from the hips down. Now, three years following a long recovery that included being feted by the White House during a State of the Union address, he is in the back of our airplane going home to Ohio, having just spent Christmas with his wife's family in Washington State.
The weather for this mid-winter VAC trip is typical for the northern latitudes of the U.S. We deadheaded from Skagit Regional (BVS) to pick up the Sergeant in Olympia (OLM), leaving BVS in fog with the ceiling at 100 feet and the visibility between 1/8 and 1/4.
Twenty minutes later, we were over the HOOMES intersection, inbound on the ILS 17 approach to OLM, still in the same fog bank with the ceiling generously reported at 200 and visibility at 1/4. It was one of those crewed approaches with "lights", then "runway in sight" called at the last possible second.
At OLM, we board the Sergeant and his family in mist and light rain, and as we taxi out we find the weather has improved slightly to 1/2 mile and 300 feet. We are assigned the YELM TWO departure, which handily has us turn in the general direction of Rapid City, South Dakota, where we plan to make a brief fuel stop. Six minutes later, we are climbing through 12,000 feet with the summit of Mount Rainier becoming visible through the cloud tops on the left side of the aircraft. The winds aloft are from the west, blowing about 80 knots at FL 430.
We quickly close on Rapid City, which has four miles visibility and 2,500 broken…pretty good, actually. But, while letting down, trying to see Runway 14 from 20 miles away is nearly impossible, because it is surrounded and covered by an ocean of snow and ice. The controller, seemingly telepathic, cautions us not to confuse Ellsworth AFB at 11 o'clock with RAP; apparently some inadvertent landings are known to have happened there and are not welcomed. Just to be extra careful, we elect to fly the RNAV 14 approach and have that locked into the autopilot when we watch Ellsworth slide by on our left.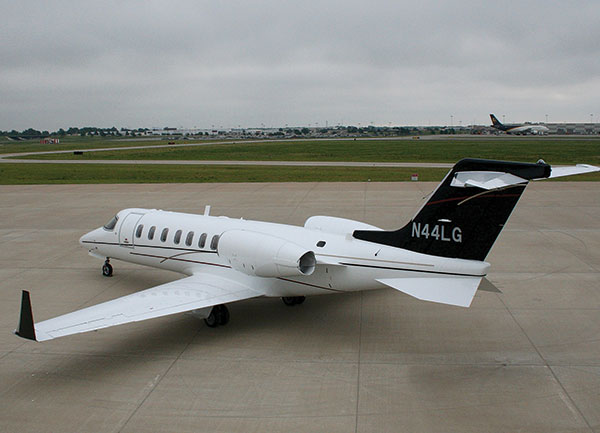 As we break out, RAP has snowplows working the runway and taxiways, and there is a plethora of NOTAMS about closed taxiways. We land a bit long on a dusting of snow and let the Lear roll to the end before exiting the runway, then gingerly proceed to the ramp with one hand guarding the thrust reverse levers. It is so cold and slippery on the ramp in RAP that Sergeant Gibson and his wife elect to stay in the airplane as we refuel. Twenty minutes later, we are sliding our way back to Runway 14 and are quickly airborne.
As we head further east, there is a huge low pressure system over Missouri that is creating a massive counterclockwise circular movement of cold and wet air, extending north to the Canadian border. At FL450, west of Chicago, we are above the weather with a smooth ride in bright sunshine. But then, to our dismay, we are instructed to descend into the mid 30s and told we will have to stay there all the way to Fort Wayne, Indiana (FWA)…upon inquiry, we are told it has something to do with Chicago traffic. So, as we head further east, we are bouncing along in the same gray murk as all the airline crews who were below us.
FWA is the entry point for the GUNNE2 arrival into our destination, the Ohio State University Airport (OSU). The chart shows we should expect to cross the following BRYEN intersection at or below 23,000. Because of reported icing, we want to stay as high as possible as long as possible, but, due to traffic coming out of Columbus, we are told to descend to 12,000, where we get even more bumps from the outer edge of the weather system and start forming rime ice. Passing over the GUNNE intersection, for which the arrival is named, we get a series of vectors intended to align us with the ILS 9R approach into OSU.
But, the wind aloft is gusting a good 30 knots directly from our right, making the intercept process somewhat prolonged. A couple of minutes after the controller has given us a final intercept heading of 135 she calls back to ask if we show ourselves still north of the approach centerline. We reply in the affirmative, but also say we are correcting and add another 20 degrees to our heading. She politely wishes us a happy new year and switches us to the tower. It is nighttime when we finally break out of the clouds at 800 feet, see the OSU strobes and runway lights turned up high, land smoothly on Runway 9, and pull up less than 50 feet from the door at the FBO.
After she hesitantly asks about the legality of the procedure, the Sergeant's car is retrieved by his wife and driven right through the security gate to the baggage side door of the Lear, where we easily load their cases. Colonel Dick Iverson, a retired USAF F-111 pilot, is our 'onboard' VAC trip coordinator (aviatoriver@gmail.com) and we both pull the Sergeant's wheelchair from the aft baggage locker and assemble it in what we think is a competent fashion. But the Sergeant, having "arm walked" down the aircraft aisle and the first couple of stairs, gives us a funny but patient look as he sits on the bottom stair and correctly re-assembles the whole contraption, then, smiling, wheels himself into the warmth of the FBO office.
Following him in, we joke that flying jets in bad weather is one thing, but assembling wheelchairs is obviously an entirely different matter, and we apologize for our ineptitude. But he responds in the manner I have found so typical of these American heroes, saying it was no problem at all, and he goes on to explain the difficulties wounded veterans such as himself have with airline travel.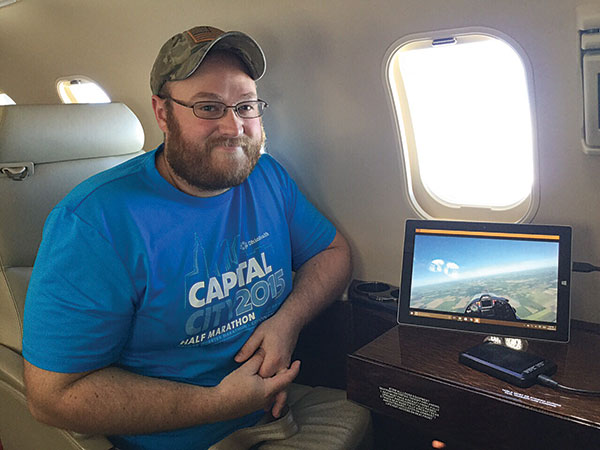 It starts with long TSA lines, then nearly always there's some form of line pullout and a very personal body search. The fact that the numerous metal fragments in the bodies of these document-carrying American veterans were caused by injuries suffered in brave service to this country seems to make little difference to the TSA crowd. An extra hour or two of being needlessly searched and questioned by paid officials of the very country they have sacrificed for is something these patriotic heroes and their non-complaining wives have just come to expect. By comparison, he says…wheelchair issues notwithstanding…trips flown by the volunteers of the Veterans Airlift Command (VAC) are just a joy. There is no mettlesome TSA business, the aircraft can usually pick them up at a very convenient local airport, and multiple aircraft transfers are usually rare.
Regardless of the severity of their injuries, in all the VAC trips I have flown with these most-deserving of all Americans, I have yet to hear even one them, or their wives, complain about their situation, or how they are treated by the country for which they have made such significant sacrifices. They are truly American heroes, and all too often are not adequately recognized as such.
As pilots, it is an honor and a privilege to have these wounded warriors and their families as VAC passengers in the aircraft we fly.
For additional information on the Veterans Aircraft Command, visit www.veteransairlift.org.