Owning a personal aircraft affords operators an immense amount of flexibility, freedom, and time-savings – the type of which non-aviators can only imagine. However, a select few owners take the sum of those benefits to the next level: living with their aircraft. Their commute time from coffee in the kitchen to removing the control locks is limited to a short walk right outside their door. These lucky few are
airpark residents. 
According to the online directory Living With Your Plane, there are now more than 400 residential airparks across the United States, many of which can accommodate and cater to the class of pilot that own twin and turbine aircraft. To gain a better understanding of what airpark living truly looks like, we visited with four airparks from around the country: Alpine Airpark (Wyoming), Big South Fork Airpark (Tennessee), Stearman Field (Kansas) and Heaven's Landing (Georgia).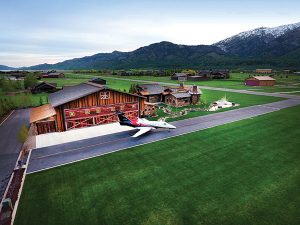 Alpine Airpark (46U): Alpine, WY
Swiftly ascending to what many consider a "perfect airpark," Alpine Airpark has come a long way in 13 years. Founder Bill Wiemann, a real estate developer, first flew into the western-Wyoming airport that borders Idaho one year before purchasing the land (it is now communally owned by the residents). At that time, the airport consisted of a crushed gravel, private runway just 20 feet wide. Since then, the property has undergone a flurry of improvements including the expansion of its runway to a generous 5,827 feet of asphalt (70 feet in width) and the addition of a GPS approach and a new FBO. 
The runway is impressive in itself for an airpark, but what sets it apart is the approach. Alpine Airpark is situated 5,637 feet above sea level amongst the Palisades Reservoir and the Snake River. During the approach, pilots can see the Tetons as well as the vast, untapped Wyoming bush. The proximity to unbridled nature allows the local homeowners to enjoy their R&R in some of the highest rated scenery in the country. Residents and visitors (rental homes are also available) enjoy year-round outdoor activities from fly fishing and whitewater rafting to snowmobiling (the area is ranked number two in the world for this winter activity). The airport's website showcases some of the recreational opportunities and beauty that the location has to offer.
"Our website is a good preview, but we frequently have visitors claim that Alpine Airpark is all the more impressive in person," said Wiemann, who now serves as an associate broker.
Residents can speak to this "seeing is believing" facet of the airpark, as they enjoy not only breathtaking scenery and fair weather, but a quiet, gated neighborhood with friendly neighbors who live and breathe aviation. The community boasts several of Wyoming's "top homes." And if any interested buyers do not find their design tastes met by the already-existing houses for sale, there are still lots available to build dream homes, with about 17 free spaces left in the development. If the past few months have been any indication of the future demand, potential residents will be racing to snatch those remaining spots.
For more information, visit www.alpineairpark.com.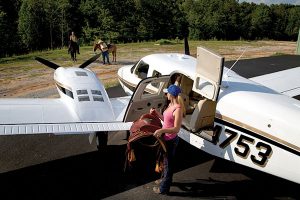 Big South Fork Airpark (KSCX): Oneida, TN
Positioned on 125,000 picturesque acres in the Big South Fork National River and Recreation Area, Big South Fork Airpark is "an outdoor enthusiast's dream" according to Bill Armstrong, one of the developers of the airpark. The scenic landscape offers forests, gorges, and sandstone bluffs, and allows residents to enjoy activities including camping, hunting and hiking right in their backyards. 
One of the more unique features of the airpark is that it is co-branded as an equestrian community. "The Stables" is an onsite upscale boarding facility, located at the north end of the airpark on a stunning 50-acre site designed with both horse and rider in mind. The equestrian community boasts almost 400 acres of trails, which is complemented by an additional 180 miles of trails in the adjacent Big South Fork National River and Recreational Area (NRRA). 
But for those readers who "ride" other Mustangs, there is plenty of "stable room" for a wide variety of aircraft. Unique to other airparks, Big South Fork Airpark does not have its own runway but rather is attached to a public airport, the Scott Municipal Airport. This presents some advantages as owners are not charged for runway upkeep and are not subject to any resulting liability costs. This is coupled with 24-hour fuel (including a Jet-A truck), three instrument approaches, an FBO, maintenance services and a 5,500' x 75' asphalt runway.
Residents who elect to build homes can choose from one- to four-acre lots, with either direct taxiway access (low $100,000's) or without direct access (high $100,000's). There are tradeoffs for each, but each lot promises superb views and a great community atmosphere. Currently, there are 60 home sites sold, and 35 developed lots for sale (around 45 lots await development). 
Dr. Lamar Parker, a Cessna 414A owner and 10-year resident, lists a number of factors that led him to choose Big South Fork Airpark over other airport residences including excellent neighbors, reasonable HOA costs and gated access to a municipal airport. He also adds that KSCX being an "IFR airport," with its two GPS approaches and one VOR approach, was another important factor in his decision. A bonus, the airpark's county (Scott County) does not levy property tax on airplanes. 
For more information, visit www.bsfkairpark.com.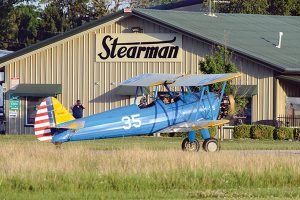 Stearman Field (1K1): Benton, KS
Situated 10 miles outside of Wichita, Kansas, Stearman Field borders the aviation-centric city known as the "Air Capital of the World." What was originally a small-town airport that saw occasional traffic from the main airport (ICT), has since developed into a true Midwest-destination with its 35-plus homes (and growing) and an on-field restaurant that regularly hosts a variety of fly-ins and car shows.
The airport is characterized most by the almost dozen Stearman biplanes that call the 5,106 foot runway home (hence the name, Stearman Field). In addition to the WWII trainers, there are nearly 250 aircraft based on the field. Traffic far exceeds that number on the weekends when pilots flock to the airport for their taste of the Stearman Field $100 hamburger.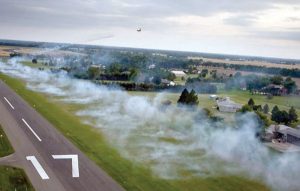 The restaurant has continually expanded since opening in 2010, and now features a huge outdoor patio area just feet from the ramp and runway where diners and onlookers often experience an impromptu "air show." During scheduled special events, like the annual Fly-In and Car Show, the patio doubles as a concert venue; the adjacent ramp filled with vintage aircraft and classic cars. These events attract hundreds of local residents from the surrounding areas – a bonus that contributes to awareness of the joy behind private aviation. 
On the south end of the runway (which is lighted and offers a GPS approach), luxurious hangar homes can be found in the gated Stearman Estates. Lots vary from one to two acres, with all properties having runway access. In addition to these homes, on the opposite side of the runway, there are numerous "hangar condos" perfect for those who wish to have living quarters alongside their airplane, but less property maintenance.  
For those requiring only hangar space, there are also dozens of hangars lining the runway, often with doors open and neighbors socializing among their aircraft. 
"The passion that this community has for aviation is evident and contagious," said Dwayne Clemens, owner of Stearman Field. "It's fun to see that passion shared with those who visit for a meal or a fly-in. They can view aviation in a much closer capacity than other airports. Kids are especially enthralled by the planes taking off and landing, just feet away."
For more information, visit www.stearmanestates.com.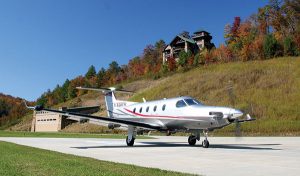 Heaven's Landing (GE99): Clayton, GA
Situated in Rabun County, Georgia "where spring spends the summer," Heaven's Landing is a 635-acre airpark surrounded by sweeping, mountainous national forest. While a relatively new development (circa 2001), the community has quickly become a shining example of aviation and recreation. 
Mike Ciochetti, owner and developer of Heaven's Landing, sells the location as more than an airpark but rather as a "lifestyle." Residents and visitors enjoy hiking, biking, horseback riding, boating, fishing, whitewater rafting and hunting within the immediate vicinity. Furthermore, the airpark's 13,000-square-foot community clubhouse offers a myriad of entertainment options – from indoor racquetball and a sizeable fitness center to saunas, dining, and a forthcoming outdoor swimming pool.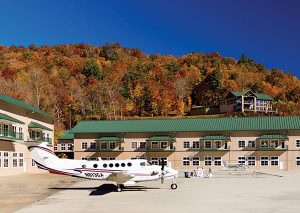 And if Heaven's Landing residents feel the need to trade out mountains for palm trees, they have the option to stay at The Grand Isles Resort on Great Exuma (Bahamas) at a highly discounted rate. It's typical for groups of residents to fly down to the resort together several times throughout the year. Greg Sheets, a resident who owns and operates a King Air F90 and Mooney, raves about the community. 
"The Heaven's Landing lifestyle and location not only offers great outdoor activities like hiking, fishing, and camping but also a community of fellow owners and folks from town." He also adds that Lake Burton, located just five miles from Heaven's Landing, is a huge plus, and he and his wife frequently enjoy the lake with fellow airpark residents.
With so much to do outside of flying, it could be easy for some residents and visitors to forget that they are in an airpark community, but aviation is still at the forefront. With a 5,200-foot lighted concrete runway, anything from a Piper Cub to a Falcon 50 safely operates in and out of the field. 
More than 135 lots have sold in the development, with six approvals for new home construction recently issued. At full capacity, the master plan calls for 300-plus home sites that will line the lush rolling terrain. Depending on the views, taxiway access and terrain, the one-and-a-half acre lots at Heaven's Landing range from $120,000 to $320,000 in price, with mountain-top views representing the premium end of this price spectrum. 
Because of the mountainous terrain at Heaven's Landing, not all the lots have direct taxiway access. For those property owners without direct access, Heaven's Landing has built an incredible hangar complex, centrally located within the development. 
Mountain views, an incredible range of activities, large private hangars, runway access at home and a fuel farm that features both 100LL and Jet A? Sounds like heaven.
For more information, visit www.heavenslanding.com.