Earlier this spring, I got wind of a remarkable letter that Cessna had received from a recently retired employee from the company's Independence, Kansas manufacturing plant. As you may know, Cessna built the facility adjacent to the Independence Municipal Airport (KIDP) when it restarted production of its single-engine piston aircraft following the passage of the General Aviation Revitalization Act. Since then, the company has built more than 11,000 Cessna 172's, 182's and Cessna 206 aircraft, which are now in operation around the world.
 The letter was written by Dennis Mason, a sheet metal assembly worker from Fredonia, Kansas, which is in the southeastern part of the state. After talking with him on the phone for nearly an hour, I knew I had to share his story.
Dennis grew up on a farm near Fredonia and at some point in his childhood, he became fascinated with airplanes. As a 10-year-old in 1963, he began writing letters to Cessna requesting any brochures or product information they could send. Within a week of sending his letters – without fail – he would receive an envelope stuffed full of brochures about all of the aircraft in the Cessna product line. Dennis said that act sparked a love for flying that would last his entire lifetime.
As a teenager, he joined the Fredonia chapter of the Kansas Civil Air Patrol. The chapter owned a Cessna 140 and held ground school classes every Tuesday evening. Dennis' father didn't support his interest as a close relative had been killed in a plane crash. Undeterred, Dennis walked five miles from the family farm into town so that he could attend the CAP class each week. At the conclusion, he would walk the five miles home in the dark. 
After graduating from high school, Dennis became a welder but never gave up his dream of flying. He was fortunate to meet Roy Hartwig who owned an FBO and Cessna dealership in nearby Coffeyville. Roy recognized the spark in Dennis' eyes, and did everything he could to feed it. For a summer, after working all day at his welding job, Dennis washed the greasy bellies of Cessna's in exchange for an occasional ride in one of Roy's inventoried aircraft. He also began taking flying lessons, although he had little money to afford it. It wasn't until May 1980 that Dennis finally earned his private pilot's certificate. Afterward, his instructor told him he was the only student to earn his certificate 30 minutes at a time. 
When Cessna began building its single-engine manufacturing plant in Independence in the mid-1990s, Dennis immediately applied for and got a job making what he called these magnificent planes. "I took a pay cut to work at Cessna, but it was what I wanted to do," he said. "Every day was a dream come true working for Cessna." 
Over the course of his 20-year career, he built every wing strut for every Cessna single-engine airplane up until the day he retired on Jan. 4, 2018. He also built spares for older Cessna's. If you do the math, that's more than 22,000 wing struts. Today, as a retiree, he's still a passionate Cessnan through and through. You can hear it as he talked about his lifelong affection of the planes he lovingly built and flew through the years. If Dennis decided to give blood, I'm pretty sure he would bleed Cessna red.
Back to the letter Dennis wrote to Cessna earlier this year. This final letter to the company that took the time to respond to a 10-year-old with a yearning desire to learn about airplanes. Here's how he closed it out: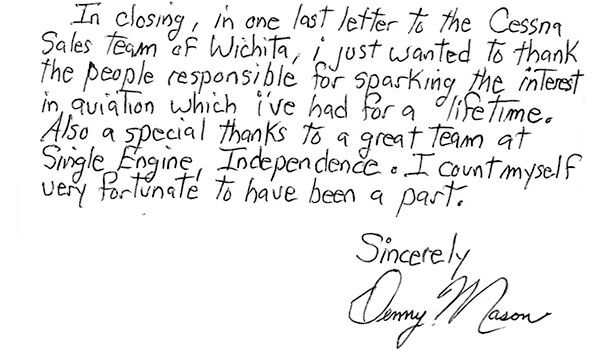 As I walked through the many miles at Oshkosh, I couldn't help but peer into the young faces of the kids trailing their parents, necks craning to the sky. Do I see the same spark that prompted Dennis to walk five miles each way to ground school? Do they find themselves dreaming in three-dimensional abandon high above the earth? Does that kind of passion for aviation still exist in teenagers today? For some, the answer is certainly yes. 
But here's the key thing I took away from my conversation with Dennis: One small act of kindness – a letter answered – changed a life. And it fanned a spark that led to a successful career in aviation and the dream of becoming a pilot fulfilled. 
Just one small act. It's our move.