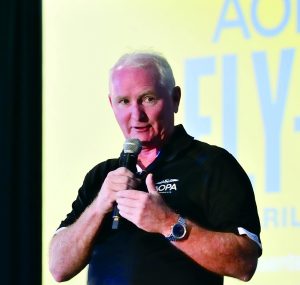 WHO: Mark Baker
COMPANY:
Aircraft Owners and Pilots Association (AOPA) and International Council of Aircraft Owner and Pilot Associations (IAOPA)
Position:
President and CEO
Home base:
Florida Keys Marathon International Airport  (KMTH)
RATINGS:
Commercial pilot with single and multiengine land and seaplane ratings, rotorcraft rating, and type ratings in the Cessna Citation 500 and 525s and DC-3
HOURS:
15,000
1. What are the top issues AOPA is working on in 2020?
Our advocacy arm is truly the heartbeat of AOPA – giving more than 300,000 pilots, aircraft owners and aviation enthusiasts a voice. Every day our government affairs staff and regional managers are working on the Hill and at the state and local levels advocating for GA pilots and protecting our nation's airports across the country, as well as working at the FAA to prevent onerous over-regulation. Especially during the recent COVID-19 crisis, our government affairs team has been in overdrive to make sure that GA airports receive funding to thrive even when traffic is down. And that pilots get relief from some of the aviation deadlines that are hard to meet when so much of the country is shutdown.
This year, one of our priorities is building up the House and Senate GA Caucuses, which currently have more than 280 members. Maintaining relationships with bipartisan leaders is imperative to educating and fostering champions of GA at the highest levels of Congress. 
AOPA has also made it a priority to support the National Center for the Advancement of Aviation (NCAA), which would bring together all stakeholders in support of a national industry forum to address workforce challenges facing the industry and ensure that the United States remains competitive. It would help advance Science, Technology, Engineering and Math (STEM)-based aviation curriculum to reach the 25,000-plus high schools across the country, assist in apprenticeships and help military veterans and others transition to good-paying technical jobs in the aviation industry. We have been working closely with industry groups and Sen. Inhofe (R-Okla.) to make this a priority in 2020.
2. In 2019, the National Aeronautic Association recognized AOPA's You Can Fly initiative with one of its highest honors. Tell us about the organization's efforts to make GA flying more accessible and affordable to all.
Since AOPA's founding in 1939, lowering costs and reducing barriers has always been the focus of the organization. AOPA's You Can Fly Program has developed initiatives to support flying clubs, encourage best practices in flight training, get lapsed pilots back in the air, bring AOPA's resources and expertise to pilot groups across the country and invite high school students to learn more about careers in aviation and aerospace
I am very proud of all that our You CanFly Program has achieved in just a few short years, and being recognized by the NAA for all our work is an honor. Our high school aviation STEM program has introduced 5,000 students in more than 160 schools to opportunities in aviation so far. We've also made waves by welcoming underrepresented groups with 37 percent being minority groups and 22 percent being women. Thanks to generous donations and a match by the Ray Foundation, we were able to secure $1 million in flight training scholarship funds last year. And we're just getting started. Our four-year high school curriculum will be in many more hundreds of schools in the next few years.
3. Is there something that you didn't realize as a member (since 1984) that you've come to understand since taking the left seat at AOPA?
For the past six years, I've been fortunate enough to lead this tremendous organization. I learned early on that AOPA goes way beyond our merchandise and the magazines you might see in pilot lounges across the country. AOPA is a fast-moving machine of nearly 300 dedicated employees working every day to further GA. 
When I first joined as a member, I didn't realize just how much AOPA offers and how vital the advocacy arm of our organization is. GA pilots are such a small percentage of the overall population so it's vital to advocate for the support we need in Congress while energizing our network of pilots and enthusiasts. I've made dozens of trips to the Hill since becoming AOPA's president and it has really given me a better perspective of how much we need a united voice.
4. You've owned quite a number of airplanes over the years – tell us about them.
I knew early on that I had to work hard to keep up with my flying habit. Becoming president of AOPA was lifechanging for me and a career in this industry has opened many doors allowing me to keep up with my passion. Over the years, I've had my fair share of aircraft – including my 1953 Super Cub, which I've owned for nearly 30 years, and I'm not sure I will ever part with it. Flying low and slow in the cub and taking it through the backcountry and grass airstrips really reminds me of what being a GA pilot is all about. I have also owned a few Beechcraft Barons and my current is a 1967 Baron 55D that I keep in our Twin Cities hangar for jumping around. On the business side, my 1980 Beechcraft King Air F90 is great for traveling to headquarters in Frederick, Maryland.
5. How has COVID-19 already affected GA, and what do you predict might be the effects once we  get through the current pandemic?
COVID-19 has temporarily uprooted the aviation industry from the bottom up. The airlines are dealing with the brunt of this crisis, but GA is also feeling the impact. From ATC zero events, airport closures, constantly changing airspace restrictions, impacts on flight schools and issues with airman certifications – this is an unprecedented time in our history. But through the hardships, we've seen just how vital GA is to the nation's infrastructure. Our industry has played a huge role in recovery efforts by conducting humanitarian flights and delivering urgent supplies like masks, ventilators and other resources of need.
AOPA and several partner organizations have been working with the FAA and Congress to highlight the value of GA, and fight for regulatory exemptions and policy deviations on behalf of our members. We were pleased to learn that the FAA is working to issue a Special Federal Aviation Regulation to help alleviate uncertainty about compliance and find solutions for those affected by this pandemic. Our main goal is to keep GA flying, and though we have certainly hit a rough patch, I have no doubt GA will come out on top again. It's just a matter of time.