Frigid temperatures, wind gusts, ice, snow – winter is now in full force around the country. How does a flight to the tropics sound? Perhaps you can still squeeze in a trip this year, or read on for helpful tips as you prepare future plans.
Tropical Paradise
The tropics is a magical world of sandy beaches, turquoise waters and comfortable temperatures. The Tropic of Cancer passes through Long Island, located in the Bahamas (a mere 300 nautical miles southeast of Miami). After reaching the Tropic of Cancer, the average temperature reaches around 80 degrees Fahrenheit.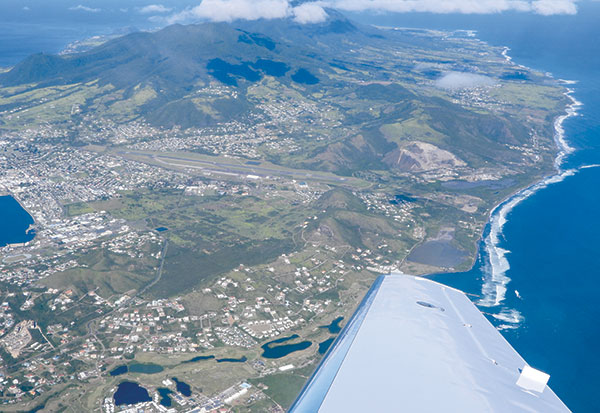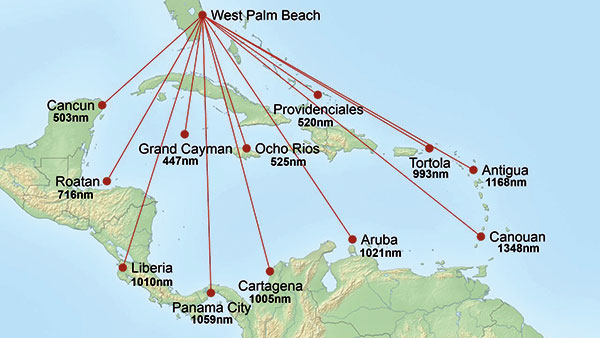 But what destination(s) in the tropics should you choose? This is where maps and perceived distances can play tricks on you. From Palm Beach, Florida, the closest tropical destinations are as follows:
Providenciales in the Turks and Caicos; 520 nm
Ocho Rios in Jamaica; 525 nm
Grand Cayman; 450 nm
Roatan in Honduras; 715 nm
Are you surprised Providenciales in the Turks and Caicos and Ocho Rios in Jamaica are about the same distance? And looking at the "far away" destinations, the distance between West Palm Beach and Aruba, Cartagena (Colombia), Panama, and Tortola is only 1,000 nautical miles. 
Stranger yet, Aruba (at a distance of 1,021 nautical miles) is only 28 nautical miles further than Tortola. And Cartagena is only 5 nautical miles further than Liberia, Costa Rica. What is wrong with these numbers? Nothing, they are all true. Charts and maps can sometimes play tricks on us in their rendering.
Now that you have a better understanding of the distances (and the occasional trickery), let's look at some of the other factors that come into play when selecting and flying to these tropical destinations (excellent weather and temperatures are nearly always guaranteed at each).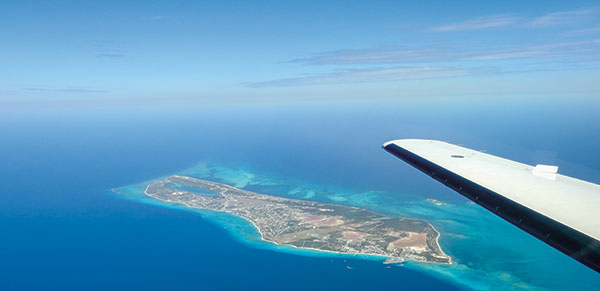 Languages
Most of the islands are English and Spanish-speaking, with some French and Dutch spoken in the Caribbean. In the British sense, there are the Bahamas, Turks and Caicos, the Virgin Islands, the Leeward Islands, St. Kitts, Nevis, Antigua, St. Lucia, the Grenadines, Canouan, Barbados, the Caymans, Belize and Jamaica. 
Spanish is spoken in the DominicanRepublic, most of Central America, Cuba (no longer available for travel), Panama, Honduras and Colombia. There is a little Dutch spoken in the islands of Aruba, Bonaire and Curacao. In the Caribbean, we also have the French islands of Saint Martin, Guadeloupe, Martinique and Saint-Barthelemy (also known as St. Barth). English is widely spoken everywhere, so the comprehension and terminology are not an issue. 
Currency
The dollar is "king" at most every destination.
But some countries do have their own currency.
Fuel
Avgas and jet fuel are plentiful in the tropics but double-check availability because deliveries might be late.
For jet fuel burning airplanes, a fuel release with a well-known provider is your best bet.
Regulations
Take caution since the United States implemented the Electronic Advance Passenger Information System or eAPIS. It can be a real pain for U.S. pilots, and even worse for foreign pilots and their foreign registration. So, they have created a comparable system called CARICOM. Mexico and Central America countries also require pre-approval.
Single Pilot Waiver
While the single pilot waiver is accepted in the United States (and only in the United States) for jets that require two crew members in the rest of the world, that also applies to the Caribbean. If you intend to fly down there in a single-pilot airplane like a Citation, you need a SIC (second in command) or specific approval from aviation authorities.
FBOs
In the Caribbean, the notion of an FBO (Fixed Based Operator) is not widely used, but they are beginning to pop up. Obviously, Puerto Rico and the U.S. Virgin Islands have had some over the years and are slowly becoming more common. Beef Island (Tortola, BVI) offers an FBO. There is also a brand new FBO in Grand Case in Saint Martin. But double-check fees before you visit there as their rates seem to be on the plus side. The Dominican Republic is also starting to open FBOs in airports such as Puerto Plata as well as La Romana. But, islands like St. Lucia and the southern islands of Dominica and Canouan do not offer any FBOs, so arrangements need to be made ahead of your trip. 
Also, when an FBO is around, watch out for the fees. You must understand that the fuel is not typically disbursed by the FBO but by a fuel contractor. So, it is your responsibility to make sure that fuel is available number one. And number two, like in Canouan, there is no fuel truck. There is a pit. That means you need to move your airplane to get fuel, and when the fueling is complete, reposition the airplane on the ramp since no tractors are available to move the airplane around. All of the above can make for inconvenience or expensive costs.
Insurance
Make sure your insurance covers the Caribbean and the places you intend to fly.
Paperwork
It is highly recommended to carry a stack of general declaration forms known as the C7. This form was created by the British years ago and is still widely used in the Caribbean. Basically, the C7 form lists most information regarding the occupants of the airplane, such as crew and non-crew, passport information, etc. 
I would strongly suggest preparing this paperwork ahead of time and leave out the arrival and the departure airport on each (which you will fill out when you arrive). Some places like Trinidad have been known to request up to 12 copies of the form, so when I say carry a stack of copies, I mean what I say.
Fuel Card 
A fuel card is a must in the Caribbean, especially for jet fuel since the avgas ones are a lot less available. The beauty of the jet fuel card is that you first have the price confirmed to you ahead of time. Number two, there is no money exchanged on site. Everything is done and covered by companies such as UVair, World Fuel, Colt, etc. It is certainly a must to carry one of these down instead of cash or credit cards.
That brings up the notion of cash. Some areas will require cash, i.e., the Dominican Republic for avgas. We've seen cases where the request for cash has often been made with no option for a credit card. Of course, all of these factors change over the years but be prepared in case.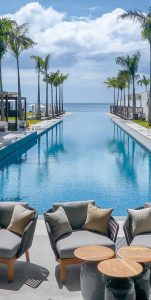 Hotels
There have been several new openings of resorts and high-end hotels in the Bahamas. Bahia Mar is an especially big project on the island of Nassau, offering a number of unique properties. One of them is the Rosewood Hotel. In the Out Islands, there are a couple of new resorts. There is the Chub Cay Resort off of Nassau, which is worth a visit. There is also a new place on the south end of Andros Island called Caerula Mar Club. 
Of course, keep in mind that properties in the Abacos area were heavily damaged or erased by the last hurricane, Dorian. So, no stop should be planned there before checking for an update on the status of any hotel. But the islands of Eleuthera and Exuma are still thriving with tourism and offer beautiful activities. 
Further south in the Turks and Caicos, there are some newer, updated places to stay. To name a few, there is the Wymara Resort and Villas (which has been around for about 10 years, but they have a new name and newly completed construction). Other enjoyable and interesting options: The Shore Club and the Seven Stars Resort and Spa.
Even further south, Anguilla is certainly a beautiful place – flat with a lot of beautiful beaches. Malliouhana is a resort I have visited in the past and recommend. It has been refurbished, reopened, and is now under the care of Auberge Resort Collection.
On the same island, Belmond took over Cap Jaluca. With its Moorish style and view of the island of Saint Martin, it is an exciting place to stay with the Belmond aura. On the island of Saint Martin, La Samana on the French side, has received a substantial number of upgrades and a new manager. It is a wonderful place to visit. Speaking of Saint Martin, it was pretty heavily damaged by a hurricane a couple of years ago. The FBO at Grand Case is mandatory and it is expensive.
On Dominica, there is a new Kempinski recently opened. It is a pretty exciting place because Dominica hasn't previously been on the map of travel in the Caribbean. Not to be confused with the Dominica Republic, Dominica is located between south of Guadeloupe and north of the Grenadines. On the island, there are hot springs, a river and a large hotel with 151 rooms. 
In the Grenadines, I personally love the Mandarin Oriental on the island of Canouan. It is undoubtedly one of the more unique small resorts of the islands of the Caribbean. Some people also talk about the hotel in Bequia, which is called the Friendship Bay Estate.
North in Antigua, we have Jumby Bay, Curtain Bluff and Carlisle Bay. On Virgin Gorda, which is finally starting to reopen following hurricane damage, we have the Little Dix Bay now in full operation and worth staying again. It's a very unique lifestyle. Another place called Valley Trunk is reopening and it is fantastic. 
There is also another hotel going in Saint Barth. But, keep in mind that you cannot bring a jet or any airplane in Saint Barth if you have not received an endorsement from a local pilot. It's a place you can land only after receiving an endorsement as it is closed to jets mostly because the runway is very short – about 2,200 feet. But there are a number of beautiful places there to go to like La Sereno or Manapany.
Now crossing over to the other side of the Caribbean towards the Pacific and Central America, Panama is striving with tourism. There is a charming resort off the airport of David called Isla Secas Resort, which is on the Gulf of Chiriqui. Not easy to access but worthwhile.
In Costa Rica, there is the Andaz on the Peninsula Papagayo not far away from the Four Seasons in Papagayo. There is also a place called Nayara Resort, where they take full advantage of the unique beauty of Costa Rica with lodging and amenities among the pristine rainforest.
In the Dominican Republic, there is a brand new, high-end Club Med that has opened and worth taking a look. There is also the Nickelodeon Hotel and Resort in Punta Cana. 
Fees
Stay tuned for my next article in an upcoming issue regarding destination-specific do and don'ts.