Once upon a time, Oshkosh was best recognized as a brand of overalls. Today, much of the world hears "Oshkosh" and thinks airplanes. 
That's because the Experimental Aircraft Association (EAA) is celebrating 50 years of Oshkosh, Wisconsin as the location of its annual fly-in convention, which this year runs July 22-28. This is the 67th edition overall of the week-long event. It started in 1953 at Milwaukee's Timmerman Field then moved to the Rockford, IL airport in 1960 before a final move to Oshkosh in 1970.
While the official name is EAA AirVenture Oshkosh, most people simply call it Oshkosh or OSH. Residents in the town of 60,000 about 80 miles northwest of Milwaukee are proud to be EAA's hometown. Members, who numbered well below 100,000 in 1970 and now top 200,000, have watched the organization and the event grow from a small grassroots homebuilders air show to the largest aviation gathering in the world encompassing all types of pilots and enthusiasts from every corner of the globe.
Farmland across from Wittman Regional Airport is now filled with large exhibit hangars as the event has made room for more attendees, exhibitors and airplanes. And for 11 days each July, it's the busiest airport in the world – last year averaging 134 takeoffs/landings per hour.
"Over 50 years, nearly every significant aircraft type in the world has landed on the runways at Wittman Regional Airport to be part of the EAA fly-in," said Rick Larsen, EAA's vice president of communities and member programs, who coordinates AirVenture features and attractions. "More important are the stories of the people who have come to be a part of this event and the legacy of what is now known simply as Oshkosh. That is what we will be celebrating in 2019."
To commemorate Oshkosh at 50, here are some of those stories from people who have a history with Oshkosh and opinions on why it is so special.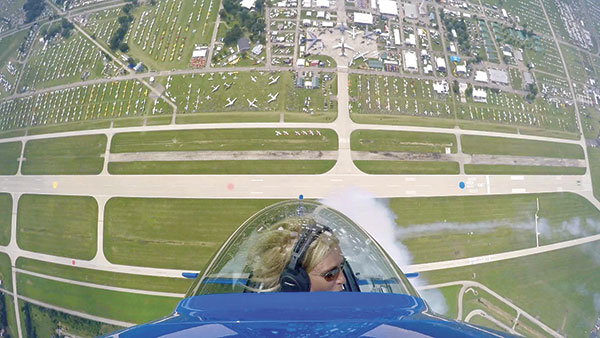 The Performer
The first time Patty Wagstaff attended the fly-in was 1984. It was also the last time she came to the event as a non-performer.
She was in the area to fly her first aerobatic contest in a Super Decathlon at Fond du Lac. Just two months earlier, she had performed in her first air show, an event in Alaska, where she was living at the time.
She returned to Oshkosh in 1987 to fly a white Pitts S-2S after "Duane Cole, famous author and aerobatic performer and instructor, put in a good word for her." She estimates this year will be her 25th time to perform at OSH.
In between those 25 appearances, Wagstaff has crafted a National Aviation Hall of Fame career, including becoming the first woman to win the U.S. National Aerobatic Championship in 1991 (flying an Extra 260), a title she would win for three straight years. Wagstaff said OSH is one of the most inspiring places to perform.
"I think sometimes in our day-to-day flying, it's easy to lose our connection with the reason we started flying in the first place – freedom, challenge, beauty, getting above it all. But being at Oshkosh brings all of that back into focus," she said.
Performing at Oshkosh is like performing in front of 100,000 of her closest friends, she said. The crowd is full of pilots, performers and many others who understand aviation more than the average air show audience.
Such a passionate, enthusiastic atmosphere allows EAA to recruit the world's best performers. This year's schedule includes no fewer than 30 pilots and performing teams. The daily air shows range from precision aerobatics to the latest innovations to rare and unique flying machines as well as warbirds and vintage aircraft. Wagstaff will fly her Extra 330LX on two days and participate in other activities.
"I'm just happy to be invited back to perform again," Wagstaff said. "It's been a privilege to have been a small part of a big event for so many years."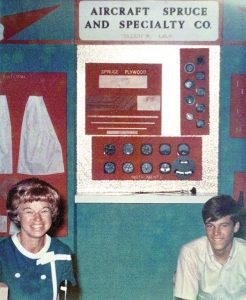 The Exhibitors
Among the 800 exhibitors who are showcasing their products and services this year, there are several who also had booths in 1970. Two examples are Avemco Insurance Company, based in Frederick, Maryland, and Aircraft Spruce & Specialty Co., based in Southern California.
"For 50 years, AirVenture in Oshkosh has been the most important week of the year to our family as pilots, as well as to our business," said Jim Irwin, president of Aircraft Spruce. Jim's parents, Bob and Flo Irwin, started the company in 1965. In 1967, they flew the company – which at the time included them and their two sons – to Rockford in their Navion Rangemaster.
The company hasn't missed an EAA fly-in since, growing from a staff consisting only of family to adding a couple employees in the 1980s, to moving in 1995 to the new Hangar A sponsored by the company and bringing 20 staff members to work their exhibit.
Jim, attending his 42nd consecutive fly-in this summer, cherishes the memories of sharing time in the right seat with his dad, first in the Navion then in Jim's Cessna T210. His father's last trip to OSH was 1987, and Jim continued to fly to Oshkosh each summer as he moved up the Cessna ladder to a 340, a 421C and then to his current aircraft, a Cessna 425 Conquest, in 2000. Now he is making memories with his three sons, all active in management at the company.
"The love for aviation is handed down from generation to generation, and taking kids to Oshkosh is the best way to get them excited about flying," Jim said. "AirVenture brings pilots and their families to Oshkosh for a week each summer to experience many different aspects of aviation, including homebuilt, factory built, classics, military and light sport/ultralight aircraft. It is an aviation experience like no other."
Avemco Insurance Company was just 9 years old when it attended the first fly-in at OSH in 1970. While underwriters will write new business, the company's focus at the event has shifted from hard sales to brand awareness, safety education and building partnership relationships with groups like Women in Aviation International (WAI) and the National Association of Flight Instructors. Avemco also brings a few newer hires each year to give hands-on lessons on why and how to rate aircraft.
"We take 5 to 6 staff every year," said Marci Veronie, vice president of sales and marketing for the company and chair of WAI's board of directors. "One year we awarded a trip to OSH as a door prize to one employee at our holiday party. She has since gone on to take flying lessons and joined the local Ninety-Nines and WAI chapters."
Veronie has worked for Avemco 33 years and has attended Oshkosh at least 20 times. She calls herself an ambassador for the event, urging even non-pilots to attend at least once.
"It is better than watching the ball dropping in Times Square or attending Mardis Gras," she said.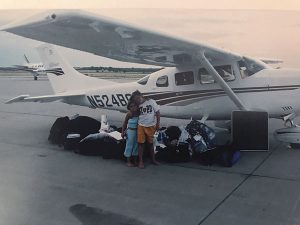 Attendee, Traditional VFR Arrival
The late Paul Poberezny, EAA's founder, is often quoted as saying of the fly-in: "You come for the airplanes and you come back for the people." This rings true for Ben Lee, a dentist in Wichita, Kansas, who will be marking his 27th straight fly-in convention this year.
His passion for aviation brought him to OSH with a buddy for the first time in 1992, where he geeked over the warbirds and homebuilts. He has returned for nearly three decades because the annual trip offered precious time with his family and newfound friends.
"Oshkosh is a very, very special place for me," he said. "This will be my son's 23rd straight year, and he is 24 years old. My daughter, who is 20 years old, stopped coming when she was 17 after 17 consecutive years. It was our family vacation for many years as our kids grew up. I have met some of my best friends at Oshkosh. The camaraderie of everyone in attendance is second to none."
From walking the grounds until the kids fell asleep in their strollers to stocking up on a year's supply of cheese at a dairy, the memories are prized. The first few years he attended, Lee arrived via commercial flight. He said now it wouldn't feel like Oshkosh if he didn't fly in. He and his son will fly their Cessna 421 to OSH this year.
"My son not only attended OSH all these years but he also attended EAA's Air Academy for a couple years when he was in middle school," Lee said. "I think that sparked his interest in the mechanics of aircraft. He is not only a private pilot now but he also is a certificated A&P."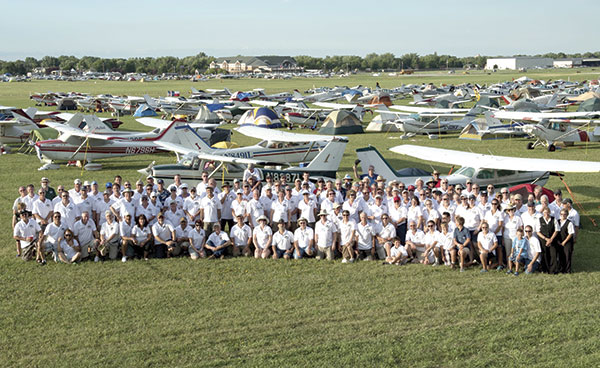 Attendee, Mass Arrival
After 13 years of staging a mass arrival at Wittman Regional Airport, the process is routine for the organizers of "Cessnas 2 Oshkosh" but no less thrilling.
"This will be my 14th year and every year it's goosebumps from takeoff to the moment you land," said Gil Velez, a pediatrician who flies his 2002 Cessna 172S Skyhawk SP from Caldwell, New Jersey to Juneau, Wisconsin on the Thursday prior to the Saturday mass arrival with his wife as co-pilot. "It's just an amazing feeling. It's very exciting to be leading this group into Oshkosh."
Velez has participated in every Cessnas 2 Oshkosh organized, and he was invited in 2007 by Rodney Swanson and Craig Chipley to help them lead the all-volunteer effort. He also helps with formation flight training clinics and serves as one of the lead pilots during arrival, which included a record 87 Cessna aircraft last year.
"For me, the main appeal of the arrival has shifted over the years," said Velez, who started attending OSH when he purchased his airplane in 2003. "Initially it was the thrill of formation flying. After doing the arrival a few times, it became clear in my mind that the Cessnas 2 Oshkosh mass arrival was exponentially safer than the main Ripon-Fisk arrival. Now and for the past 10 years, the main appeal is the people. I'm involved in it because of the friends I've made over the years – to see them, talk to them and spend time together – and to make more friends."
The group is one of several mass arrivals that coordinate with EAA in order to tie down together in the North 40 camping area. Bonanzas to Oshkosh started its mass arrivals in 1990 and regularly brings 120 aircraft. Velez said that group helped the Cessnas "take our first steps, and over the years have continued to support us in one of the best examples of aviation camaraderie that I've seen."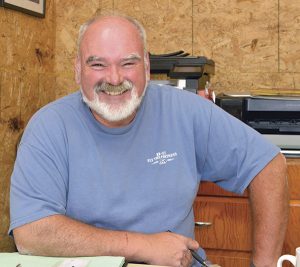 The Volunteer
Oshkosh is special to Geoff L. Robison because his first exposure to the fly-in came at a time when, as a young police officer in Indiana just back from serving overseas in the military, he hadn't yet made many friends. He immediately felt a sense of community when he volunteered on his first visit to OSH in 1983.
Robison will attend his 37th straight EAA convention this year and has volunteered in the vintage area every year. Based in Auburn, Indiana, he owns a 1946 Piper Cub Special and a 1950 Cessna 170A, but he typically drives to Oshkosh. Through the years he's worked many volunteer roles, and while serving as president of the Vintage Aircraft Association, he helped manage volunteer resources during the fly-in. Now he runs a cash register at Aeromart, where attendees can purchase used and spare aircraft parts, and spends a few days coordinating tours on EAA's B-17 Flying Fortress known as Aluminum Overcast.
Volunteerism at the fly-in led to leadership positions within EAA's board of directors and its Vintage Aircraft Association.
"I am now very rich in friendships that came to me through the EAA," he said. "Being rich with friends doesn't even begin to describe how fortunate I am because of these many unique opportunities EAA has provided to me over all these years of volunteering."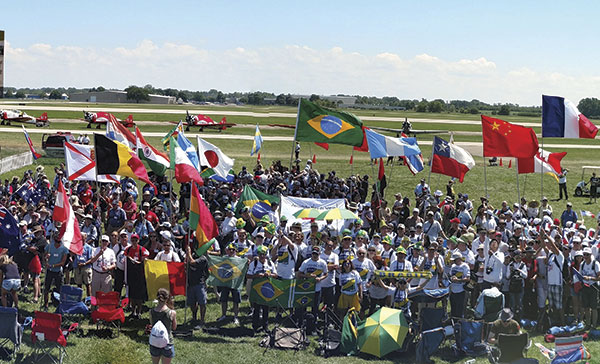 The Resident
As a year-round resident, Michel Bryson is proud that her city is synonymous with the largest aviation gathering in the world. As a 27-year volunteer working with international visitors at the fly-in convention, she knows that a trip to the middle of the United States is a one-time pilgrimage for some while others return often.
"As a volunteer and as a resident, 'Oshkosh' means an incredible source of pride," she said. "I can tell you that for thousands of people around the world, 'EAA' and 'AirVenture' are secondary terms. Oshkosh is the aviation event of a lifetime, even for those who come every year."
Based on a 2017 University of Wisconsin Oshkosh economic impact study, the fly-in brings $170 million for the five counties in the region. Hotels, restaurants, retail stores and many other local businesses benefit.
Bryson started volunteering as a French interpreter in 1993, after graduating from college with a French degree. She became chair of International Visitors in 2004, coordinating volunteer interpreters in the International Visitors Tent.
International visitors are not required to register their origin, but based on the record 2,714 guests who registered in 2018, 87 nations were represented including 538 from Canada, 386 from Australia and 277 from South Africa. Bryson said the tent becomes a community within the event footprint, where volunteers return each July along with guests from around the globe who have become friends.
"It's better than a family reunion – it's a week long and much larger than just family," she said. "My summer would not be complete without them."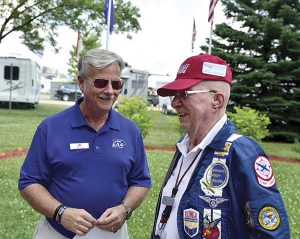 The Staffers
Jack Pelton and Rick Larsen are EAA staff members who first came to Oshkosh as kids with their families and today help coordinate the event that heavily influenced their interest and careers in aviation.
Larsen, the EAA vice president who also helps coordinate features and attractions at the fly-in, attended at least one event in Rockford with his family as a child and then came to
Oshkosh two or three times a decade in the 1970s – 1990s. He went to work marketing for airlines and continued the radio-controlled model aircraft hobby he started as a kid.
In the mid-1990s, he brought his youngest daughter Erica to Oshkosh because he thought she'd enjoy camping at Camp Scholler. They started coming every year, and by the early 2000s their attendance had inspired them. Rick built a Quicksilver kit plane then moved up to a Piper Cub in 2004, the year he came on staff at EAA. Erica went on to graduate from Embry-Riddle Aeronautical University in 2010 and is now a first officer with Delta Air Lines.
"There's only one EAA, there's only one event like this and we are all proud to be a part of something that has an impact on getting and keeping people involved in general aviation," Larsen said. "From the staff side of the fence, along with volunteers, we realize that we're all caretakers here to make sure we don't lose what's magic about this event."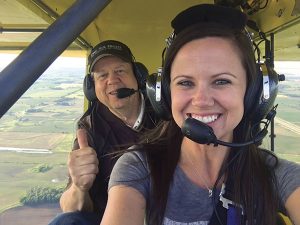 Pelton first flew to Oshkosh in 1978 as a 19-year-old with his father in their Cessna 140A from Southern California, where they were members of EAA Chapter 1. They attended about every three years, then raising a family and building his career kept him away throughout the 1990s. When he joined Cessna Aircraft Company in 2000, he started attending on an annual basis. He was elected chairman of the board for EAA in 2012, the first elected from outside the organization's founding Poberezny family, then in 2015 Pelton added the role of CEO.
"What makes Oshkosh special is the culture that's been established, on purpose initially by Paul and it's been continued by being engrained in the tradition over the years," said Pelton, attending his 20th consecutive fly-in this year. "Oshkosh is its own unique Disney environment with its own attributes: the congeniality, the cleanliness, how well organized it is, the 5,000 volunteers who show up every year to make sure it is a special place."
He said preserving that culture is an honor.
"You're walking in hallowed grounds among people who worked so hard to get it to where it is," he said. "You respect that and at the same time, it still has enormous potential to grow and evolve as we go forward. That's exhilarating, it's challenging and it's a lot more fun than anything else I've done in my career."