We are fortunate in aviation to have a number of innovative companies to support our industry. One company in particular caught my eye a couple of years ago as I searched for a replacement tug for my aircraft. I scoured numerous options but upon approaching Best Tugs at EAA AirVenture in 2017, I selected their electric Best Tugs Bravo 5. After seeing the whole product line, I felt they broke the mold on a product we owner-pilots all utilize. 
Best Tugs, based in Spanish Forks, Utah, was launched in 2015 by brothers Mark and Mike Patey, both engineers. The pair had recently sold their electric hybrid transportation design and manufacturing business, Prodigy Engineering – a company known for high quality, and very unique, electric vehicle propulsion systems. Mark and Mike have always had a passion for aviation, having built 13 airplanes as well as owned and piloted a variety of aircraft including light jets and helicopters. 
The brothers became interested in building tugs when they realized they were moving high-value aircraft with relatively basic equipment. Mark's wife Suzy, also a pilot, found it a hassle to move her SR22 using a basic tug into a tight hangar. Being pragmatic, Mark knew there had to be a way to develop a more advanced tug. 
They built their first version, the B5 which is capable of towing 5,600 pounds, in a shop by their house. The official launch of their tug was in April 2016 at Sun 'n Fun in Lakeland, Florida. Mike and Mark originally estimated they would build and sell 3 to 5 per month. Today however, they produce 3 to 5 per day, and have expanded to their third manufacturing facility within two years.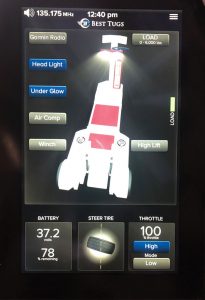 A Tug for Almost Any Aircraft
Best Tugs now offers five major product lines: Alpha, Bravo, Echo, Romeo, and the latest, Sierra which is under development. Within each product line, there are models with varying load capacities and capabilities, along with a variety of options including cup holders, helicopter lifts, air compressors and even fire extinguishers.
The Alpha A2 and A3, starting at $2,995, are dragger style tugs, useful to move lighter aircraft with a maximum weight of 3,600 pounds, with options for tailwheel airplanes. I selected one of these for a friend's Husky which has worked well. I also considered this option for my Cirrus SR22, however I needed flexibility to move a variety of aircraft (and possibly a helicopter in the future), so the Bravo B5 offered more flexibility to fit my needs.
The Bravo series, starting at $5,800, consists of larger, walk-behind tugs that can move larger piston and turboprop singles as well as twins and jets up to 18,000 pounds. Using a combination of loading straps, ramps and a "Quick Lock" fork for planes with fairings such as the SR22, the Bravo B5 is extremely easy to use with very smooth throttle response. With the two-speed throttle, I use the low speed for fine movement into my hangar and the higher speed when I need to move it farther distances. You can easily switch between the fork and strap depending upon the aircraft you need to move. I've even used the cup holder and USB charging ports on the handle. I also purchased the onboard air compressor option which makes it easy to position the tires and then inflate them. If you need to travel over raised metal tracks at your hangar, I recommend the optional shock absorber on the steering tire which makes it smoother when moving over those rails.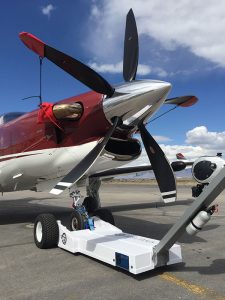 For those owners with helicopters, Best Tugs has two options: a helicopter lift attachment that will work on a Bravo B5, or a Bravo-derived helicopter product line named the Heli. Currently, their helicopter lift is designed for a Robinson, which makes sense because they also fly one themselves. It locks onto the helicopter and has a remote lift to raise the nose enough to roll the aircraft on its rear wheels or a dolly. They offer two versions of their Heli line – H5 and H9, which reflects the weight capabilities. If you want to move helicopters that utilize a platform, they also offer a towing adapter for the Bravo, and other lines, that allows you to tow the landing pad. 
The Romeo, which also starts at $5,800, is their low-profile remote-control line, complete with remote operation of the loading platform. For those owners who need a "Lazy Susan" ramp for either limited nose gear turning limits, or narrow hangar approaches, you can order that option with the Romeo. I've used their remote control and it is very intuitive with advanced features not available on other remote tugs. 
Recently, Best Tugs released their new ride-on line of tugs, the Echo, starting with the E12, E15, E18, E21 and E24 which I evaluated at NBAA in October. The Echo is the most advanced ride-on tug I've ever seen. Designed primarily for FBOs (or owners that simply want to have the latest technology), the Echo series sports a touch panel to control the features of the tug. Using the all-weather touch panel, operators can select power based upon what weight they will be moving, operate the optional winch or lift, even tune the included 10 watt Garmin communications radio to call base or the airport Ground Control. 
The power adjustment for various aircraft helps reduce any potential damage, especially to lighter aircraft and can even sense if the pilot has left the brakes on. They even included a visual monitor for the steerable wheel position which should prevent many tug incidents. As we know, software requires updates and you can download the latest software with the included adaptor from your smartphone to update your Echo to the latest release. Another example of the user-focused design of their tugs.
Best Tug products also offer unique features such an auto-throttle, braking and even optional regenerative braking on some models. The auto-throttle will actually sense if an airplane being moving is on a slope and will prevent runaway movement – while at the same time braking to charge the batteries. Their system monitors sensors 100 times per second, and can make adjustments at the rate of 30 per second. 
A common damage to planes during towing occurs when the prop hits the tug and is bent. As more aircraft have four and five bladed propellers, moving them with tugs can be a challenge. To counter this potential issue, Best Tugs has patented their Prop-Safe Technology which is incorporated in their tugs as a low-profile platform that allows operators to safely move even 5-bladed aircraft. 
Who is to say what the Patey brothers and the rest of their capable team will develop next. But, based upon their current products and expertise, I can assume it will be something useful for the aviation community.