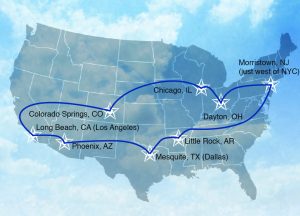 I have a business trip starting in Dallas next week with presentations in LA, Chicago, Dayton and New York City. Four nights and five days flying several passengers and bags from one coast to the other. Want to fly right seat?"
Such was the email from friend Larry King, owner of a Cessna Citation M2. It was a chance to live like Dick Karl of Flying magazine. I glanced at Patty. "Honey, have you thought about spending some quality time with your mother? Or catching up on all the Outlander re-runs you have only seen twice? And Larry might even pay me!"
Permission granted.
Now began the hard part. The planning. Max fuel available for our passenger load. Fuel prices. Where to stop en route. Temperature and takeoff limitations based on runway and climb gradient. Hotels. Rental cars. Airport choices based on location of meetings. It turns out that a lot of "what ifs" go into preparing for a big trip like this. Paperwork behind us, here's how it went.
Day One
KHQZ (Mesquite, TX) — KPHX (Phoenix, AZ)
Cruising Altitude FL400
Temp ISA+2
Leg Time 2+36
TAS 395 kts
Fuel used 2,140 lbs
KPHX — KLGB (Long Beach, CA) 
Cruising Altitude FL320
Temp ISA +2
Leg Time 1+06
TAS 395 kts
Fuel used 1,182 lbs
We depart in great weather all the way to Long Beach. We are cleared into both airports with "descend via" RNAV SIDS. The Garmin G3000 is great for complicated arrivals if you closely monitor its performance and stay ahead of the airplane. Cutter Aviation in Phoenix provides us quick, great service as usual. In Long Beach, the FBO Airflite has lots of leather in the lobby and friendly smiles. With the "big wigs" in meetings, my work was finished and I goofed off the rest of the day, err I mean I spent several hours planning Day Two.
Day Two
KLGB — KCOS (Colorado Springs, CO)
Cruising Altitude FL 410
Temp ISA+2
Leg Time 2+24
TAS 390 kts
Fuel used: 1900 lbs
KCOS — KPWK (Chicago, IL)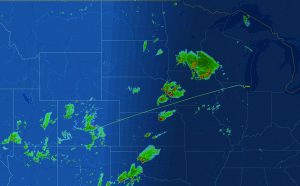 Cruising Altitude FL410
Temp ISA+2
Leg Time 2+14
TAS 395 kts
Fuel used 1,790 lbs
This flying gig is great. After a leisurely breakfast, I take an Uber to the airport. The execs arrive at 1300 in a good mood. They must have made a big deal. We head to KCOS for a fuel stop. Long Beach is a busy airport with crossing runways and airline traffic. "N921XT is cleared to Colorado Springs via runway heading to one-thousand-five hundred feet, then left turn heading one-eight-zero, radar vectors Seal Beach, Pomona, Hector, direct Blue Mesa and the Deberry Three Arrival." Within two minutes of departure the clearance is changed. It's great to have two pilots today.
Larry and I monitor the deteriorating weather in KCOS. Afternoon TRWs cover much of Colorado. On top at FL410 all is calm, but below, the options are decreasing. The Nexrad METAR for KCOS reports a 90-degree crosswind gusting to 55 knots in a thunderstorm. Hum, what's our option? Pueblo? What about fuel? What's the Pueblo surface temperature? Can we depart out of there with enough fuel to get to Chicago?
Denver Center agrees to our request to deviate south on the arrival over Alamosa, and we dodge building cells while being vectored for the RNAV GPS 35L approach. "Colorado Springs Information Whiskey, low level wind shear alerts in affect. Virga all quadrants."
We break out with good visibility and an 18-knot left crosswind. I realize that we are not far from where a 737 rolled inverted years ago. We are high and Larry reduces power to idle with little effect on our descent in moderate turbulence. Finally things settle down and he makes a great landing to the applause of the passengers. I remind them that we accept gratuities.
I am beat but we are only halfway there. On departure, we are slightly below maximum gross weight, but our performance calculator shows we need every bit of the 11,022 feet available on runway 35L. After departure, we muse that we should have used 35R with 13,501 feet. Our accelerate-stop distance is the issue today. Flying Citations you don't often think about needing more than 11,000 feet of runway.
Thankfully, the leg to Chicago is routine and we land at 2030, find the rental car, get the executives on their way, and call it a day. I collapse in my hotel bed. Maybe this corporate flying job is not quite as cushy as I thought.
Day 3: Tornados
I wake up at 0600 to TRWs in Chicago and have Hawthorne Aviation put the M2 in the hangar. Larry says we might go to Racine and then to Dayton. I flight plan quickly then wait for hours for further news. Larry calls with an update. We plan for a late afternoon departure to KMGY (Dayton, OH). But trouble is brewing. An unforecast meso-cyclone. I begin a non-stop weather watch using flightplan.com, weathertap.com, and avwxworkshops.com. Each site offers information I need for the big picture. Chicago to Dayton is only a 45-minute flight, but in between lies Indianapolis and several tornados. At 1500 sitting in the pilot lounge, I watch a Starbucks being destroyed on the Weather Channel. Eight tornado warnings are issued for Indiana and Ohio. Lines of huge thunderstorms are developing.
The passengers arrive for our flight.
"Gentlemen, here at Larry King airlines, our No. 1 goal is your safety," I announced. I print out a color picture of the route and the weather for all to review. Everyone quickly agrees that we need to spend another night in Chicago and try this trip in the morning. The great folks at Hawthorne put the airplane back in the hangar. Phones flying, we cancel hotels, book new ones, change appointments, reschedule rental cars and punt.
Day Four
PWK — KMGY (Dayton, Ohio)
Cruising Altitude FL240
Temp ISA+16
Leg Time 0+51
TAS 395kts
Fuel used 890 lbs
KMGY — KMMU (Morristown, NJ)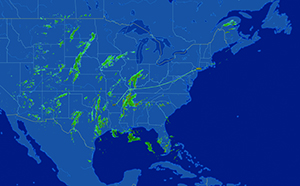 Cruising Altitude FL 370
Temp ISA+9
Leg Time 1+30
TAS 396 kts
Fuel used 1,320 lbs
Compared to tornados, 800 overcast and 5 miles in light rain isn't bad at all as we load up for a 0800 departure to Dayton. Indy Center gives us a shortcut and we make the meeting right on time. I take a crew van to lunch. It's a giant one with a driver's seat that appears to have been bolted in place with no adjustment for short pilots. Stretching as far as my legs can go to reach the gas pedal, my head is invisible below the dashboard. I can't see anything. It's like I am driving in the clouds. I careen left to right along the busy road, in what appears to be a driverless vehicle. The one mile trip to get a sandwich turns out to be the most dangerous leg of the entire week.
Wherever we land, everyone wants to comment on the wild paint scheme of Larry's M2. "It looks like my motorcycle jacket," says one line guy. Another pilot walks over and asks if we are flying a rock band. I respond, "Yes, but I can't tell you who."
We depart late afternoon, dodge TRWs and shoot the ILS to runway 23 at Morristown. The New York approach controller is a hoot with his heavy Brooklyn accent and talkative personality. "Whaddya axe-pect ahfdah dirtyfive ears?" he transmits.
Day Five
KMMU — LIT (Little Rock, AR)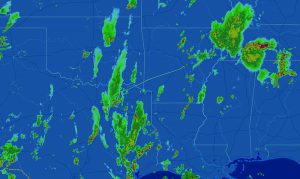 Cruising Altitude FL 410
Temp ISA+2
Leg Time 2+56
TAS 390 kts
Fuel used 2,160 lbs
KLIT — KHQZ (Mesquite, TX)
Cruising Altitude FL 320
Temp ISA +10
Leg Time 0+56
TAS 395 kts
Fuel used 950 lbs
This right seat job is fun, but I am seriously ready to get home. The 1,166 nm nonstop is just out of conservative range for the M2, even against the modest 25-knot headwinds because of TRW's in the Dallas area. We depart Morristown and get cleared higher immediately, eventually to FL410. Our original fuel stop was KMQY (Smyrna, Tennessee) but in-between is a large area of building cells. Larry suggests we overfly them and stop in Little Rock rather than land in Smyrna and then be forced to depart into the weather. What a great idea. Center concurs and we change our destination to KLIT.
After a quick turn in Little Rock, we are off for home. The TRWs in the Dallas area are persistent. On the Fingr 5 arrival, we dodge cells, pick up a little ice, and have to wipe the inside of the M2's windshield clean despite the use of defog. Maneuvering visually for the RNAV GPS 36 into Mesquite, we fly between two cells containing lightning. "Are you OK with this," says Larry. Just tell me it's OK."
"It's OK Larry," I say.
It's good to be home.•T&T