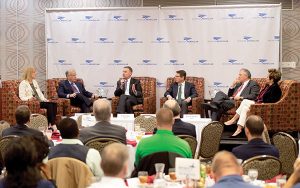 Each month my local aero club, the Wichita Aero Club (WAC), hosts a luncheon where dozens of industry professionals, pilots and city leaders congregate to foster and promote aviation, both locally and nationally. I have attended a number of these luncheons over the past few years and find it to be a fantastic networking and learning event – as well as a nice reminder of the comradery that exists among this great city, aptly dubbed the "Air Capital of the World."  
Typically the luncheons feature a guest speaker as a part of the program, often having traveled a far distance to take the floor and speak to his or her aviation specialty or business. During December's luncheon, there was not only one, but five esteemed guests featured during WAC's "ON-AIR Summit." This annual panel-style event is held to gain insight directly from industry leaders regarding aviation's most pressing news and issues. 
We heard from the heads of some of aviation's most prominent organizations: Jack Pelton, president and CEO of EAA; Ed Bolen, president and CEO of the National Business Aviation Association (NBAA); Pete Bunce, president and CEO of the General Aviation Manufacturers Association (GAMA); Tom Haines, senior vice president, media and outreach of the Aircraft Owners and Pilots Association (AOPA); and Paula Derks, president of the Aircraft Electronics Association (AEA). The session was moderated by Aviation Week's Molly McMillin and covered a wide array of topics including market stability, the ADS-B mandate, product certification, what's next on Capitol Hill, and outlook opinions on the future of aerospace.
The group first reflected on the challenges seen in the decade following the Great Recession. EAA President Jack Pelton, who was the CEO of Cessna in 2008, jokingly admitted to "recurring nightmares" from those days. He recalled customers visiting the factory to see their on-order airplanes, yet unable to take delivery due to the financial downturn. NBAA President Ed Bolen brought up the unfortunate timing for NBAA's 2008 convention, which occurred the same week the stock market sank to its lowest levels in recent history. When the discussion shifted to the current economy and market, however, Bolen's outlook for the future was bright.
"I sense that 2018 is going to finish as a strong year for a lot of companies. Flight hours are up while the level of used aircraft inventory is down," said Bolen. "There is enthusiasm that 2019 may well be better."
The other four panelists echoed this positive sentiment pointing to a much-improved economy, tax incentives from bonus depreciation, ADS-B sales (which often leads to additional technology sales), and increased aircraft values across both piston and turbine products.
"We see people investing a lot of money in legacy airplanes – certainly from an avionics standpoint, but also paint and interior," said Haines. "The shops are all backed up, and aircraft values have gone up significantly over the past year."
This is fantastic news for aviation companies and aircraft owners alike. A positive trend that I think is reflected in the recent uptick in attendance at trade shows like EAA AirVenture, which boasted record-breaking attendance in 2018. 
ADS-B was another hot topic as the countdown for compliance officially transitioned from years to months. AEA President, Paula Derks, referenced the FAA's estimate of 161,000 total GA aircraft in need of ADS-B equipment. At the time of the luncheon, it was estimated 100,000 of those aircraft remained unequipped. She believes it is highly unlikely each one will meet the deadline of December 31, 2019. 
"We can understand owners' hesitation, but the FAA has continually made it clear this mandate will not be extended," said Derks. "The difference between the ADS-B mandate and past mandates is this is a modernization of our nation's airspace system – everyone is involved…and the ones who are equipped, are already seeing the benefits in traffic and weather."    
The above is just a small taste of the panel's compelling hour-long dialogue, but I ultimately walked away encouraged. Fortunately, the event was recorded, and I recommend all aviators, owners and aviation professionals watch and listen to the discussion in its entirety. The video can be found online at www.wichitaaeroclub.com.