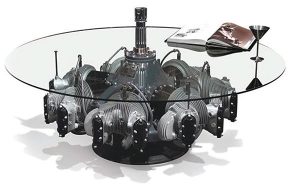 MotoArt Aviation Furniture
Own a piece of aviation history with a customized piece from MotoArt, based in Torrance, California. MotoArt recycles old aircraft parts (i.e., vintage aircraft, bombers, airliners), turning them into functional art and aviation décor and furniture. The company offers dozens of designs including cowling desks, airplane conference tables, engine coffee tables, galley bars and even beds. Interested buyers must call or email for pricing. For more information, visit www.motoart.com.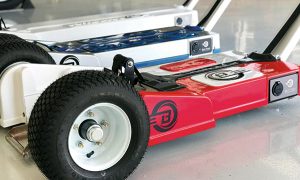 Best Tugs ($2,995+)
Since its launch in 2015, Best Tugs has rapidly expanded and now offers five product lines: Alpha, Bravo, Echo, Romeo and Heli. Within each product line, buyers can select from a wide range of sizes and types, including dragger-style, walk-behind, ride-on or remote-controlled. The dragger-style Alpha series starts at $2,995 while Bravo and Romeo start at $5,800. For more information, visit www.besttugs.com.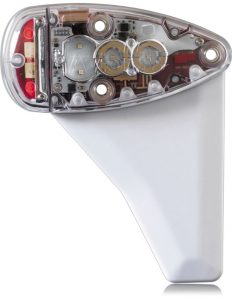 uAvionix skyBeacon ($1,849)
skyBeacon is a low-cost, wingtip ADS-B OUT 2020 compliant solution. With the largest approved model list of any UAT ADS-B OUT solution, skyBeacon works with any existing transponder and mounts in under an hour. A built-in WAAS GPS provides skyBeacon with rule compliant position data for ADS-B transmission – no additional wiring or external GPS antenna mounting is required. For more information, visit www.uavionix.com.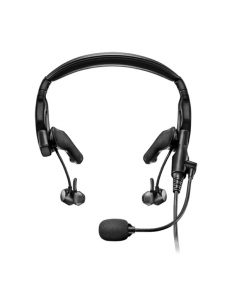 Bose ProFlight Series 2 ($995.95)
Recently released, the ProFlight Series 2 is the smallest, lightest aviation headset offered by Bose, weighing in at 4.5 ounces. Updates from the original ProFlight include a thinner head cable, improved tap control, new mic winglets and optional Bluetooth connectivity. While the headset will work in higher-noise environments, it is designed to excel in the jet cockpit. For more information, visit www.bose.com.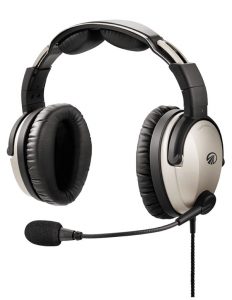 Zulu 3 ANR Headset ($850.00)
Weighing in at 14.6 ounces, Lightspeed's Zulu 3 ANR is a popular choice among aviators searching for a quality ANR headset. Comfort is a top priority for the company, with details like its curved stainless steel headband, tapered performance ear seals and tall head pads. Lightspeed also offers a competitive seven-year limited warranty. For more information, visit www.lightspeedaviation.com.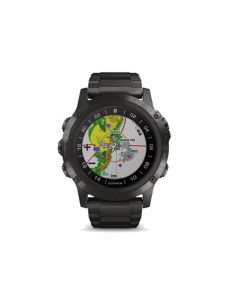 Garmin D2 Delta PX Watch ($899-$1,249)
Garmin's D2 Delta PX series offers aviators levels of capability and connectivity such as NEXRAD weather, airport data, automatic flight logging and more. Pilots can also synchronize their watch with select avionics for enhanced GPS navigation and mapping data. Beyond its range of flight-related functions, the D2 Delta PX (available in three sizes) offers a complete feature set of sports/training, fitness and outdoor navigation tools. For
more information, visit www.garmin.com.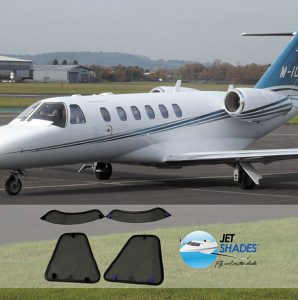 Jet Shades ($429+)
Jet Shades are the only anti-glare, anti-heat, removable window panels that entirely fill the cockpit side windows. Jet Shades reduce heat, reduce instrument glare (lessening eye strain), and protect pilots from harmful UV rays. The company offers solutions for many popular owner-flown piston, turboprop and jet products. For more information, visit www.jet-shades.com.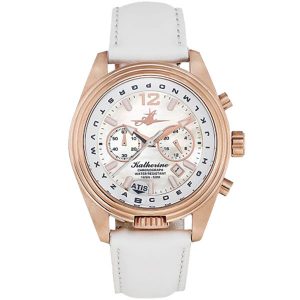 Abingdon Co. Watches ($375-595)
Designed by aviation and dive professionals, Abingdon Co. produces quality watches for women involved in adventurous activities like flying, scuba diving, base jumping, motocross and race car driving and shooting. CEO and pilot Abingdon Mullin set out to create classic women's watches built with the tactical tools professionals need. For more information, visit www.theabingdonco.com.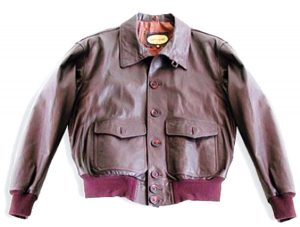 Pop's Leather Flight Jackets ($365+)
Since 1960, Pop's Leather has earned a worldwide reputation for exceptional quality leather products at affordable prices. The company is a popular choice (and sometimes exclusive vendor) for military and airline pilots looking for customizable flight jackets. Pop's Leather jackets are also well-suited for corporate flight departments and general aviation pilots. For more information, visit www.popsleather.com.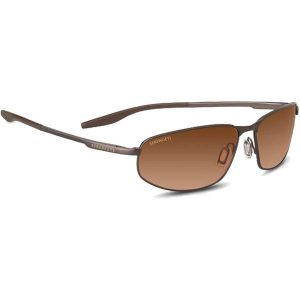 Serengeti Eyewear ($229.99)
Sleek and functional, Serengeti sunglasses are a stylish and practical choice in aviator eyewear. Serengeti equips all of its premium sunglasses with specialized technologies like Spectral Control and photochromatic properties that allow the lens to adjust to varying light conditions. The lens excel under challenging driving or flying conditions, filtering light to clarify and sharpen vision and increasing detail, depth perception and color definition. All Serengeti sunglasses provide UV protection. For more information, visit www.serengeti-eyewear.com.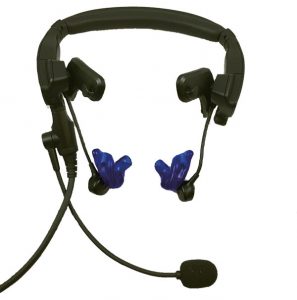 Avery Sound Custom Earpiece ($158)
For pilots utilizing in-ear headsets (i.e., Clarity Aloft, Bose ProFlight), here is a solution for added comfort – customized earbuds. Pilot earpieces are available in Satin Soft or Acrylic material and can be ordered in a variety of colors. Simply complete the at-home impression kit and mail the completed impression to the Avery Sound lab using the provided mailing materials. For more information, visit www.averysound.com.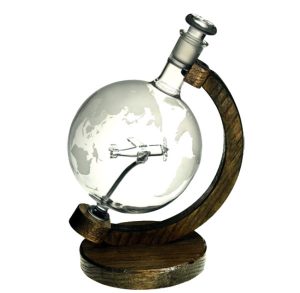 Artisan Glass Decanter ($120.00)
This gorgeous mouth-blown decanter is a worthy tribute to the aircraft it represents. The oak base is handcrafted by Kentucky artisans, while a hand-blown P-51 fighter "floats" in the liquid. Every detail of this artisanal decanter is top-notch, making it a welcome gift or nice addition to your home or office. A personalized brass plate is also available for the base. For more information, visit www.asimplertime.com.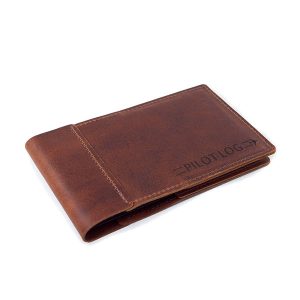 Rustico Leather Logbook ($62.00)
Track each flight with this attractive and durable Pilot Log, handmade from top-grain leather by skilled artisans.Available in nine colors, this product includes either a Standard (ASA-SP-30) or Master (ASA-SP-6) Pilot Log. Personalization is also an option and laser engraved on the front. For more information, visit www.rustico.com.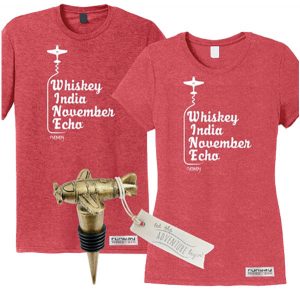 Runway Three-Six Apparel & Gear ($20-55)
Runway Three-Six provides aviation-centric clothing and gear for men, women and children. Run by aviation professionals, the company's goal is to advance the image of the industry by producing sophisticated and fun aviation apparel. For more information, visit www.runwaythreesix.com.